BBVA resumes its dividend policy, with a cash interim dividend of €0.08 per share on October 12, 2021
Following the European Central Bank (ECB) decision to lift its recommendation limiting shareholders' distributions, BBVA's Board of Directors has resolved the payment of a cash interim dividend of €0.08 (gross) per share on account of the 2021 dividend, to be paid on 12 October 2021. The net dividend per share would stand at €0.0648. The bank will make this payment to its shareholders on October 12, 2021.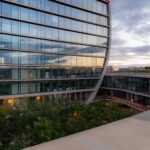 BBVA thus resumes its clear, predictable and sustainable dividend policy, with a payout, 100% in cash, between 35 and 40 percent of the profit, with two annual payments, one tentatively in October of the current year (interim dividend) and one in April of the following year (final dividend).
BBVA's strength has been evident in the market performance of BBVA shares throughout the year, which have seen an increase of 44.2 percent since the end of Dec. 2020, compared to a gain of 29.8 percent of the European index STOXX Banks¹.
¹Share price as of Sept. 29, 2021