BBVA has changed its organization to create a more agile structure and to accelerate its transformation. From now on the geographies report to the CEO, while the area of Customer Solutions incorporates key functions related to the offering of products and services.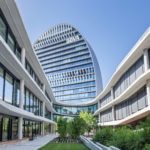 With this new structure, approved today by the Board of Directors, all geographies report to the CEO.  Spain, Mexico, the U.S. and Turkey report directly, while the rest do it through a newly-created area called Country Monitoring. Jorge Sáenz-Azcúnaga, who has held several posts at BBVA over the past 23 years, is responsible of this new support area to the CEO in monitoring all countries. Vicente Rodero, currently head of Country Networks, finishes a successful career at BBVA following his most recent responsibility promoting the Group's franchises throughout the world. He will continue to be involved with BBVA as a Board member of BBVA Bancomer and through other activities.
Also, Customer Solutions groups key functions related to the development of products and services for customers in all geographies. The area led by Derek White integrates, apart from its current function, the following:
Business development areas in all countries
Distribution model and management schemes, both for companies and individuals
Global Marketing & Digital Sales
Asset management & Global Wealth; Insurance & Prevision; and Consumer Finance
Customer Solutions also integrates the area of New Digital Businesses, an area responsible for investing and launching new digital businesses, as well as promoting the collaboration with the ecosystem of startups and developers.
The new structure includes the following additional changes:
Talent & Culture: Ricardo Forcano assumes the responsibility of the area, including the functions of organization and cross-functional projects. He replaces Donna De Angelis, who leaves the Group after having promoted an initial phase of BBVA's cultural transformation. Ricardo Forcano, who joined BBVA in 2011, has held different responsibilities within the Group and most recently led Business Development Growth Markets, an area that included Mexico, Turkey and South America.
Finance: CFO Jaime Sáenz de Tejada takes over responsibilities for planning and control.
The area of Strategy & M&A, led by Javier Rodríguez Soler, incorporates the units of Real Estate and Equity Holdings.
Following the changes, the new management chart is as follows: