BBVA USA Houston Commercial Banking team promotes Estefanía Gallardo to Relationship Associate
The BBVA USA Houston market, in line with its emphasis on employee development, has promoted Estefanía Gallardo from Relationship Support Specialist to Commercial Relationship Associate.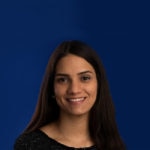 Gallardo first joined BBVA in September 2018 as a CIB Rotational Analyst. Her responsibilities included supporting relationship managers in originating transactional business, assisting with meeting clients' daily needs, and performing financial analysis. Prior to joining BBVA, Estefanía worked as an internal audit and financial advisory consultant with an internal audit consulting firm.
According to Gallardo, she became interested in working with BBVA "because of its cultural diversity and international presence." Gallardo graduated from the University of Texas at Austin with a Bachelors of Business Administration in Finance. In her new role, she will report to BBVA USA Houston Commercial Banking - Emerging Companies Manager Ralph Miller.
"Estefania joined my team last September, and with her solid finance background, and consistent work with BBVA systems, she quickly developed the potential to do more analytical work," said Miller. "We promoted her soon after seeing this exciting promise so she could develop her commercial loan underwriting and monitoring skills. We're so proud of her and the enthusiasm she brings to our team!"