BBVA CEO Onur Genç continues his tour across the Group's operating countries. After his visit to Spain and Mexico, last week he found himself in Turkey. During his visit to Garanti Bank, Genç was able to witness  firsthand the digital transformation progress that has been made by one of the bank's leading digitization franchises, led by Fuat Erbil.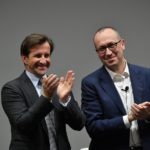 Onur Genç participated in a series of meetings with the bank's key area representatives, with whom he shared BBVA's values and objectives. "People are the essence of banking and our strength comes from our team," the CEO told an audience of more than 320 Garanti employees. An approximate additional 6,600 colleagues also watched the live-streamed presentation. In addition to the strength of the franchise, Genç also emphasized the excellent work of the whole team.
BBVA's current CEO began his career in the Group in 2012 at Garanti Bank, where he was executive vice president in charge of private and retail banking. He was later given additional responsibility in Garanti Payment Systems. In 2015 he was appointed "deputy CEO" of Garanti, taking on responsibility for wholesale banking as well.
320 employees welcomed Onur on his visit to Garanti Bank.