BBVA's new smart and sustainable headquarters
BBVA's new headquarters in Madrid has been built according to the strictest sustainability criteria to ensure minimal environmental impact. Thanks to the smart systems built into the new Ciudad BBVA it has been possible to achieve energy consumption rates of 30%. Potable water consumption has been also cut by half and 100% of waste is recycled.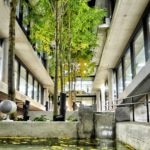 From the beginning, Ciudad BBVA was built following the sustainability criteria necessary to earn the LEED Gold certification, one of the most demanding international sustainable construction standards. This strategy of sustainable construction has also inspired BBVA's new corporate headquarters Mexico City, Houston, Santiago de Chile, and Buenos Aires.
Materials used have a low environmental impact, and buildings are designed so that remote monitoring of energy consumption may be conducted. Furthermore, rainwater collection systems have been installed on the roofs of the buildings for plant watering and grey water recycling. In addition, recycling points exist for 100% of the waste.
Recycled materials were used in the construction project, such as steel and aggregates, and most of the wood used was FSC (Forest Stewardship Council) certified, which guarantees it comes from forests managed in a responsible and sustainable manner.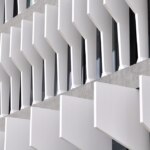 The complex is the largest in Europe to be lighted with LED technology, which enables energy savings of up to 30% compared to traditional fluorescent technology. The headquarters also features a management system that enables a further 60% savings through natural light regulation and presence detection systems.
This system is integrated with the operation of blinds that open or shut according to the position of the sun and communicate with climate control to optimize temperature when the areas are vacant. Both the status of the installation and energy consumption are monitored in real time from a central post, allowing for optimal energy management.
Internal renewable energies
Also, a large percentage of the energy needs of the complex are met using internal renewable energy sources such as solar thermal collectors, photovoltaic panels, and closed-loop geothermal energy, which takes advantage of the stable underground temperature.
The active cold beam systems avoid having to generate and carry large volumes of conditioned air throughout the complex. The beams carry cold water which, through direct radiation, conditions spaces thereby reducing energy usage without the need for fans.
The façade is composed of large transparent glass panels with air chambers and low reflectivity protected by exterior slats, or brise-soleils, that act as a solar filter blocking sunlight radiation inside the offices and reducing indoor heat load. These high specification glass and panels minimize unwanted energy losses and gains through the façades.
Electrical energy from renewable sources
In addition, Ciudad BBVA, like the rest of BBVA Spain buildings and offices, consume electrical energy from renewable sources. This commitment is part of BBVA's Responsible Business Plan, which establishes eco-efficiency among its strategic lines.
Also, the roofs capture rainwater and, by way of a drainage system, carried to treatment centers for its reuse in watering plants, while bathroom sink water is reused for to fill up toilet tanks, reducing potable water consumption by 50%.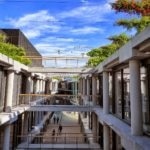 Green areas with local plants
Ciudad BBVA also spans over 31,000 square meters of green areas including 100,000 bushes and shrubs, over 400 hanging plants and over 490 trees, all of them with low water requirements. The roof features extensive vegetation hardly requiring any maintenance and enabling a reduction in CO2 emissions. This green roof, combined with the underground parking lot and high reflectivity of the materials used in the construction, contributes to reduce the temperature in the buildings and the 'heat island' effect.
The large variety of trees, plants and shrubs in the gardens provides acoustic and thermal insulation for the buildings.  In addition, watering is integrated with a system of canals and other refreshing aquatic elements favoring the creation of micro-climates.