Market analysts have given a positive rating to BBVA's results, presented on February 1. Their reports primarily focus on the strength of revenues and the positive performance of banking activity in Spain and the U.S.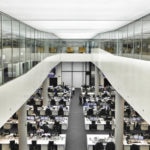 The net attributable income for fiscal year 2018 exceeded analyst forecasts by 2 percent. This caused some analysts to make more favorable recommendations and forecasts, and resulted in the stock's positive performance relative to the sector. One of the most notable elements was the positive performance of income, specifically interest margin. In terms of operating countries, the banking activity in Spain and the United States received a particularly strong appraisal.
The analysts emphasized the following elements:
BBVA Group as a whole:
The strength of income, with specific focus on interest margin in addition to better than expected performance in the results for net trading income (NTI).
They singled out the bank's commendable discipline in cost containment, although costs were slightly higher than anticipated, mainly in Turkey and Argentina. Even so, they were positive in their assessment of improvement of the efficiency ratio.
BBVA Group capital is holding steadily at estimated levels. In regard to the bank's fully-loaded CET 1 capital position, the analysts embraced the bank's measure to increase the target to a range between 11.5 percent and 12 percent, and they believe the bank can achieve these levels by the end of 2019, while maintaining its current shareholder remuneration policy.
By of business areas:
Spain's performance stands out thanks to the strength of income, and provisions that were less than anticipated.
The results in the United States exceeded consensus forecasts. They stress the positive income performance (both interest margin and NTI), as primary catalysts.
Despite provisions being greater in Mexico than initially forecast, various analysts focused on the growth outlook for this line of business. In addition, they believe the performance of credit quality indicators is encouraging.
They positively assessed the elevated income growth in Turkey, which compensated for greater than anticipated provisions.
The numbers presented for South America were in line with the consensus forecasts.