When she was barely 20 years old, Yohana Sosa decided to open her own business, knowing that things won't be easy. Her talent for enterprising is mixed with a sense of responsibility which all of us must have, when it comes to caring for the environment. This is how she created D'Alexis Cartonera, a micro business that recycles cartons and turns them into custom-made packaging material. Today, almost a decade later, Yohana is a pacesetter in her community as her business keeps growing with the support of BBVA Microfinance Foundation, and with it, a greater awareness on how important it is to preserve natural resources.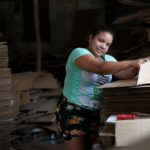 She received 50,000 Dominican pesos –less than 800 euros– just a year after launching her livelihood, becoming key to consolidating it. The financial respite played an important part in expanding her business, allowing her to buy a vehicle so she could transport her products. It also helped her save the raw materials that got damaged by two fires in her manufacturing site. Perhaps this would've been reason enough to give up, but Yohana considered it as a lesson learned: she bought everything that was needed to rebuild back up from the ashes and after finding the right moment, she also started to build a house located near her business, so she could "take better care of what's ours", she says.
Yohana's commitment goes well beyond her profits, however: she is very much aware that for every ton of paper that she recycles, she saves 17 trees from being chopped down. This is why she guarantees that all the processes her products go through are eco-friendly: the cartons that she can't use are delivered to the recycling plant.
Yohana's exemplary work has not gone unnoticed for the Dominican Republic's Minister of Industry, Commerce and Micro, Small and Medium Enterprises, Victor (Ito) Bisonó, who recently visited D'Alexis Cartonera to learn about her work and acknowledge that formalizing businesses like hers is a necessary step to open more opportunities for her.
BBVA Microfinance Foundation, also committed to the environment
Like Yohana, entrepreneurs are getting more aware of how important it is to take care of their surroundings, and that is why they access products and services carried out by the Foundation for years, with the aim of strengthening this commitment. In the Dominican Republic, Banco Adopem, BBVAMF's institution, has developed Rural and Environmental Finance (Finanzas Rurales y Ambiente), which includes green loans and offers technical skills training to apply more sustainable measures.
All of this is part of the environmental sustainability strategy implemented by BBVAMF in the five Latin American countries where it is present. This is the Foundation's way to guarantee that, in the journey towards sustainable development, nobody, not even planet Earth, is left behind.