Carlos Soria and Jordi Roca present 'El heladero del Himalaya (The Ice Cream Maker of the Himalaya)'
Discovery Max will premiere the 'Ice Cream Maker of the Himalaya'. The two stars of the documentary host the official media presentation. Carlos Soria and Jordi Roca meet again after sharing a once-in-a-lifetime experience in the Himalayas.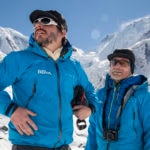 The canteen at the headquarters of prestigious TV channel Discovery Max offered the perfect setting for the presentation of a documentary - directed by Daniel Salas and produced by BBVA Contents - which will surely draw a lot of attention.
A production that brings gastronomy and mountaineering together to take us on a once-in-a-lifetime adventure, hand in hand with two of the world's most prominent figures in their respective fields: Jordi Roca, the best pastry chef in the world, and Carlos Soria, the eldest active mountaineer in the world.
Did you know Jordi Roca elaborate a natural ice cream at such an altitude?
The content you are about to play is in Spanish.
The youngest of the brothers at the helm of El Celler de Can Roca joined the BBVA Expedition to the Annapurna, led by Carlos Soria, to treat us to a culinary experience of the highest order.
Lyophilized menu for a gathering of unique guests
'The Ice Cream Maker of the Himalaya' recounts Jordi Roca's culinary research process as he sets out to define a historic menu, one that the 76 year old climber and his team would have to be able to cook during their ascent to the summit of the Annapurna.
After accepting BBVA and Carlos Soria's challenge, Jordi Roca spent months perfecting the freeze-drying technique to preserve the ingredients of a menu that he would also have to teach the members of the expedition to cook at the very Base Camp of the Annapurna.
The secrets of the documentary
Preparing the menu, the relationship between two endearing characters, one twice the other's senior, the astounding beauty of the Nepalese backdrop and the Himalayas, the locals and their culture, the physical challenge that the adventure posed for Jordi… The film focuses on a plethora of aspects.
But, without a doubt, two moments truly stand out above the rest: The scene where the group joins a group of lama students at a monastery and they all share a cup of hot chocolate and the treat with which Jordi surprised Carlo Soria and his teammates.
The chef prepared an artisan ice cream with typical products of the region at ambient temperature, becoming the first cook ever to elaborate a natural ice cream at such an altitude.