Carlos Torres Vila is, first and foremost, a great strategist. He's capable of looking at any issue, delving into it until he unravels its complexity and understands all the details. He can then translate his insights into something that's easy to understand. Once he's made up his mind, he makes a decision and concentrates on executing on his idea. He fully relies on his teams: He makes sure that everyone who is seated at the table – regardless of seniority, responsibility or age – takes part in the conversation. He encourages everyone to share their opinions, and he values bright ideas.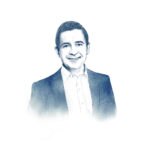 True to his engineering background, he is accurate and rigorous, but keeps his mind open to change and innovation; he is always willing to think out of the box. He once advised students enrolled in business school to be "genuine", because if there's one thing he rates highly it's independent thinkers, people capable of standing by their words, even if that means disagreeing with everyone. He's convinced that this is the best way to achieve professional success.
BBVA's next Group executive chairman is inquisitive and likes to learn about all sorts of things, as demonstrated by his professional track record: In 2002 after 12 years at Mckinsey & Co. – where he was named partner when he was only 31 – he joined Endesa to take over as head of Corporate Strategy. In 2007 he was named CFO and led Endesa's transformation and strategy during a period of hostile takeover when Gas Natural, E.On and Enel engaged in a bidding war for control of the company. He joined BBVA on the same day that Lehman Brothers filed for bankruptcy – September 15, 2008 – as head of strategy and corporate expansion and a member of the Board of Directors. 2014 was a turning point in his career: he was named head of the digital banking unit – a key area for the bank's transformation strategy. In May 2015 he was named CEO of BBVA Group.
At 52, he's married and has three kids. He was born in Salamanca, but Galicia in the northwest of Spain holds a special place in his heart. He owns a house in Tuy (Pontevedra), and his parents come from the Lower Miño region. He loves traveling, spending time with his family, and he is avid about exercise: he likes biking, running, and hitting the ski slopes.