Carlos Torres Vila: "Banks can play a key role in channeling and multiplying European public funds"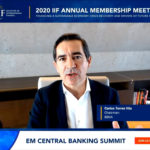 This Friday, BBVA chairman Carlos Torres Vila participated in the Institute of International Finance's (IIF) annual meeting, in which he underscored banks' role in channeling investments from the Next Generation EU recovery plan. "Banks can play a key role in channeling and multiplying European public funds," he noted.  "What is really important to ensure the most effective use of European funds is to increase the multiplier effect through the private sector, including the banks." He also indicated that emerging markets could be the most interesting for sustainable investments. "What we need are mechanisms in carbon markets to channel the funds to these countries so that the impact over time is mitigated while promoting the development of poor societies," he said.
BBVA's chairman is member of the Board of the IIF and co-chair of the Steering Committee on Digital Finance of this association. He shared the panel on sustainable finance and low emission growth with Jean Pierre Mustier, CEO of UniCredit, and Anne Richards, CEO of Fidelity International. During his presentation, Carlos Torres Vila stressed that the only way to rebuild the future after the damage caused by the pandemic is to work on an inclusive and sustainable development model that promotes investment and job creation.
In this regard, he emphasized that the Next Generation EU plan is extremely important in order to move forward and lay the foundation for an economy based on green and digital growth - a data-based economy.
The recovery plan stipulates that 37 percent of the funds must be allocated to sustainable projects, and 20 percent to digital projects. Carlos Torres Vila recalled the work done for the European Commission's Sustainable Finance Action Plan to align financial flows with a more sustainable and inclusive economy. In his opinion, "job creation is urgent," but it is important to ensure that these new jobs will last in the coming years.
Torres Vila explained that the financial sector can play a highly relevant role in this process thanks, first, to its ability to act as a channeling agent for public funds and to encourage the private sector to complement this investment. Second, he underscored banks' capacity to develop complete financial solutions for businesses and individuals due to their scope and a business model based on customer relations.
Torres Vila stressed that what is important now is for European governments to be able to start distributing the funds as soon as possible, allocating them in an efficient manner to maximize their impact. He also advocated for coordination among governments, companies and the financial sector to promote the multiplying effect of this investment. 
Sustainability as a strategic priority
In Carlos Torres Vila's opinion, the pandemic has led us to reflect on how we want to rebuild our economies and how we want our societies to look in the future. In this regard, different stakeholder groups like governments, investors, clients and regulators are increasingly more aware of the importance of climate change, social responsibility and the role that banks will play in this process. 
Along these lines, he also emphasized the need to have mechanisms in carbon markets that help channel funds to emerging countries, which are the most vulnerable to climate change, and also the places where the best projects can be developed. This could help to mitigate the effects of climate change in the most efficient way while promoting the development of disadvantaged countries.
Sustainability is an essential driver in BBVA's strategy, he explained. The bank began its sustainability approach from a strategic standpoint in 2018 with the launch of Pledge 2025. This commitment is based on three lines of action: financing to help stop climate change and achieve the SDGs by mobilizing €100 billion between 2018 and 2025; integrating the environmental and social risks associated with the bank's activities to minimize the potential negative impacts, both direct and indirect; and engaging all stakeholder groups to collectively promote sustainable development.
Therefore, sustainability has been included as one of the group's strategic priorities: to help clients in the transition toward a sustainable future.
The social dimension of sustainability
BBVA's chairman recalled that although climate change is the most visible topic on the global agenda, the sustainability challenge must be addressed from a "holistic" perspective because its social dimensions will also transform societies and economies.
He explained that society is facing several challenges, such as social inclusion, education and diversity, which must be addressed.
In the second quarter alone, hours of work - the equivalent of 495 million jobs - have been lost in the world, which has particularly affected countries with fewer resources and women. "We have taken a step back in the efforts going for gender equality," he noted.
BBVA is already working on ways to tackle these challenges on different fronts. First, on the business side through initiatives like aid for clients during the pandemic or financial inclusion and entrepreneur support programs. Second, through social programs that supported 4.6 million people in Latin America in 2019, with a €40.6 million investment.