Carlos Torres Vila: "In 2023, BBVA will continue to grow and create opportunities for everyone"
BBVA Chair Carlos Torres Vila takes stock of 2022 and shares his outlook for 2023 in relation to BBVA, but also the economy in an interview published on the bank's corporate website. In his opinion, despite the current environment of uncertainty, BBVA's strengths and strategy -based on innovation and sustainability- will allow the bank to continue to grow and create opportunities for its customers, shareholders, employees and society as a whole.
"In 2023 we see a scenario of growth for BBVA, a scenario of creating opportunities for all our stakeholders," he said. First, for customers, who are "the heart of our business". In this regard, he explained that banks play a crucial role in the economy, stimulating activity, especially through credit to companies. "In 2022, BBVA granted over €150 billion in new loans to companies, an amount we expect to increase in 2023," he added. Second, for shareholders, "with attractive, rising distributions." But also for employees, "with opportunities for professional growth"; and "society as a whole in this difficult context, helping the most vulnerable, not only as a bank through our activities, but also through the work of our foundations."
Although 2022 was a more difficult year than expected, "overall for BBVA, it was very good thanks to the strength of our franchises around the world, which allowed us to grow profitably." In fact, last year, the bank added more than 11 million customers around the world, and "customer satisfaction with the service we provide continues to increase in all countries." Carlos Torres Vila also pointed to the bank's financial metrics, with data from September 2022 "with very significant growth in lending activity, with double-digit growth, and net attributable profit increasing nearly 50 percent." BBVA is also a "leader in profitability and efficiency in Europe."
The BBVA Chair underscored Mexico in particular, where "we have strengthened our leadership despite the inrush of digital banks, thanks to the digital platforms we have built."  In fact, "we are the biggest and best fintech in Mexico," he said. He also stressed growing activity in Spain, "following a long period of deleveraging that lasted many years, we have seen a sharp rise in activity and net attributable profit at levels we hadn't seen in 12 years."
In addition, he emphasized that it was a good year for BBVA shareholder distributions, and recalled that the bank completed one of the largest share buyback programs in Europe. for a total of €3.1 billion. Regarding the dividend, "if we take the consensus on expected profit for the entire year, and considering our 40 to 50 percent payout policy, we expect the dividend this year to clearly exceed the €0.31 dividend from last year, which was already the highest cash dividend we have paid in the last decade," he noted.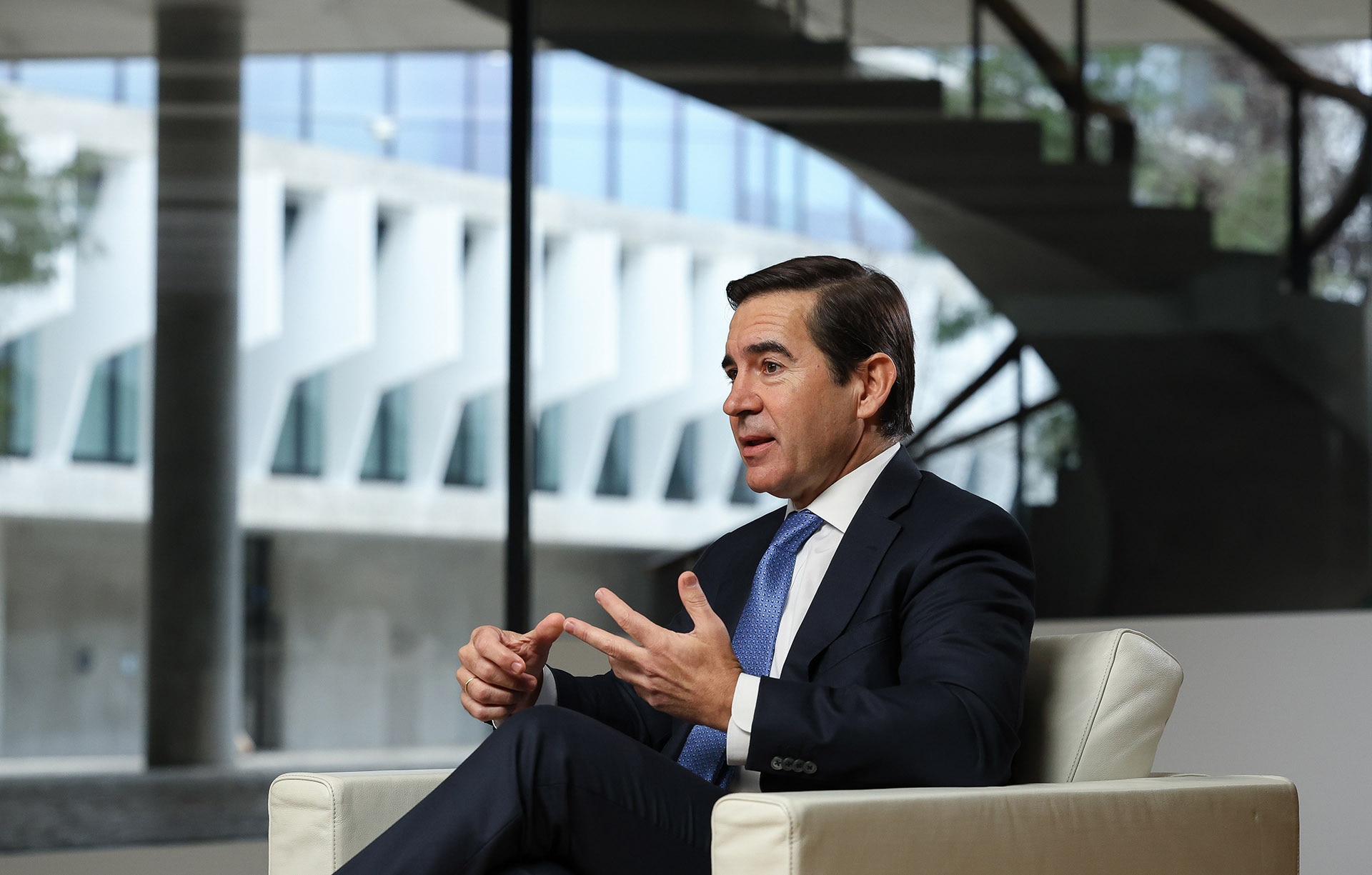 This has also led to good performance from the bank's share price. "It increased 15 percent throughout the year, also taking into account the dividends that were paid, which compares well with a 2 percent equivalent for European banks as a whole. And if we look further back, in the last four years, performance was also very good, with 65 percent appreciation including dividends for BBVA, compared to a 35 percent equivalent for European banks, and 5 percent for Spanish banks," Carlos Torres Vila explained.
Furthermore, 2022 was a year of progress for BBVA's workforce, with initiatives, such as the consolidation of the hybrid work model, the goal for women to hold 35 percent of management positions by 2024 and measures to improve purchasing power for employees in all countries. "In Spain, with additional measures that go beyond the sector-wide agreement on salaries," he said.
From a strategic standpoint, it was a year of significant progress, with concrete milestones like reaching an 86 percent stake of BBVA's bank in Turkey; but with advances particularly in the two pillars of BBVA's strategy. "On innovation, we continue to see major benefits and are taking advantage of this," Carlos Torres Vila said.  He named the stake in the Brazilian neobank Neon and the evolution of BBVA's bank in Italy, "where we currently have over 160,000 customers, performance that clearly surpasses our initial forecasts." He also mentioned the creation of BBVA Spark, a unit of the bank that provides financial services to innovative companies, and the recruitment of tech talent: over 2,000 software engineers at Group level.
But it was also a year of progress in the other pillar of BBVA's strategy: sustainability. On this point, he underlined that BBVA tripled its initial sustainable finance goal to €300 billion by 2025 and set decarbonization targets for six sectors with the highest CO2 emissions. "And all of this has made us the leader bank in Europe yet another year - the third in a row - in the Dow Jones Sustainability Index."
Decarbonization, a non-negotiable challenge
The BBVA Chair views sustainability as the greatest challenge for society as a whole. In his opinion, in order to have a decarbonized economy, we need to "mobilize the resources that channel the investments that allow the world to function without emissions. And for this, we need mechanisms and regulation that encourage this investment, especially from the private sector."
"The good news is that we are seeing a wave of spectacular innovation" to fight against global warming, he assured, with disruptive technologies in which BBVA is investing through venture capital funds like Lowercarbon and Hy24. "And that helps us in our fundamental purpose, which is to help our customers and clients in their transition toward an emission-free world, assisting them with advisory services. And of course, also helping them with financing, which is at the heart of our business."
The economy in 2023, getting better and better
The BBVA Chair also analyzed the global economic context. On one hand, the uncertainty; geopolitical confrontations following the invasion of Ukraine; COVID upturn in China; and trade tensions in some parts of the world remain. He also warned of possible second-round effects and whether they could also lead to additional interest rate hikes, to greater financial tensions. In addition, he spoke of social inequality, which impacts those who have the least the most.