Carlos Torres Vila: Mexico's opportunities reaffirm our commitment to continue investing
BBVA Mexico's Annual Meeting of Regional Advisors (RNCR 2022) is a forum where leading BBVA Group executives present and discuss the bank's performance, projects and future challenges. The meeting provides an opportunity for dialogue on the international context and political situation of the country.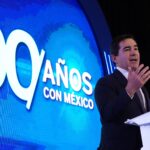 Press kit BBVA Mexico's RNCR 2022
In his presentation at the RNCR 2022, BBVA Chair Carlos Torres Vila emphasized that Mexico is a strategic market for BBVA. The country's population pyramid and young average age offer high potential for growth in banking penetration. Mexico, Carlos Torres Vila explained, provides opportunities that reaffirm our commitment to continue investing.
"We believe Mexico is a great country, with enormous potential to grasp the opportunities arising from the new world order and the increasing regionalization by leveraging key trends such as innovation and sustainability. As the best bank in the country, with the crucial support of our foundations, we will continue to support Mexico's development," he said. The BBVA Chair recalled the Group's ambitious investment plans for Mexico: 63 billion pesos (about €3 billion, at current exchange rates¹) between 2019 and 2024. "By year-end 2021, we had already invested some €1.4 billion. This year we expect to invest a further €620 million," he stated.
The Chair reminded RNCR 2022 attendees that digitization continues to drive the Group's growth on a global scale. Across all its geographies, BBVA totals more than 43 million mobile customers, and, as Carlos Torres Vila pointed out, Mexico plays a key role in these figures, with more than 16 million mobile customers.
From May 2021 to April 2022, BBVA Mexico placed 16 million products via digital channels, making for an increase in digital sales of more than 44% year on year. In April 2022, nearly 600,000 transactions per hour were handled through the smartphone app—an increase in usage of 47 percent—while online banking accounted for a volume of 63,000 transactions per hour, which translates to a 10 percent increase in usage compared to April 2021.
"We continue to break records in customer acquisition. In 2021, we acquired close to 9 million, with almost half in Mexico. Forty percent of new customers were acquired via digital channels. And the trend is picking up speed: in the first quarter this year we acquired a further 2.4 million customers, 57 percent of them through digital channels," said the BBVA Chair.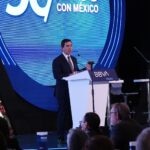 BBVA Chair, Carlos Torres Vila, during his speech in Mexico.
Carlos Torres Vila also emphasized the decarbonization of the economy as one of history's great disruptions and one of the future challenges for the world. "This could also be a great opportunity for Mexico, which has an enormous competitive advantage thanks to its climate and geography, to invest in renewable projects, or reforestation for carbon offsets," he said.
On this matter, BBVA CEO Onur Genç also praised the strong performance of sustainable finance in Mexico, which continues to accelerate: In 2021, investment to curb climate change increased fivefold, while investment in social programs doubled. For Onur Genç, this position of strength is thanks to the more than 40,000 people who work in Mexico to make BBVA the best bank in the country.
The Group CEO also explained to the BBVA Mexico's RNCR 2022 participants that, at a global level, the bank is in a strong leadership position, as shown by double-digit market shares in its key markets. In some countries, market share is close to 20 percent or even higher.
For Onur Genç, the BBVA franchise in Mexico "Powerfully models all the Group's strengths. It is the leading financial institution in Mexico, and, even going beyond that, it sets a benchmark both inside and outside the Group as a digital front-runner, with 74 percent of customers acquired digitally in the first quarter this year," he said.
Ninety years in support of Mexico
During his speech at RNCR 2022, BBVA Mexico Country Manager Eduardo Osuna stated that the strength of the bank, which is now celebrating its 90th anniversary in the country, makes it a source of strategies to develop products and services that help individuals and companies achieve their financial goals.
BBVA Mexico, Eduardo Osuna explained, is consolidating its position as the bank that provides the best opportunities for individuals and businesses, and, beyond that, as the largest fintech firm in the country. Customers now total 25.3 million, 31 percent more than in 2019, across all segments of individuals (wealth management, private banking, commercial banking, express transactions, and social program beneficiaries). In the business sector, BBVA Mexico has 778,000 clients, ranging from micro-enterprises to global companies, with 28 percent growth compared to 2019.
Osuna announced that BBVA Mexico will continue to support SMEs, which it considers a key driver of the country's development. Lending to this segment reached €764 million from January to April 2022. By year-end 2021, the total portfolio came to €3.77 billion, with the acquisition of 639,000 new customers. The goal is to add one million small and medium-sized enterprises by 2024 through a strategy based on the 'neighborhood bank' concept: BBVA seeks to bring credit closer to this grass-roots business segment by increasing banking penetration.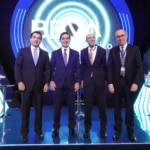 The bank's leadership in Mexico is driven by a strategy that rests on four pillars: developing new products and processes; designing a product range offered via the smartphone app; building a powerful physical structure; and strengthening security and availability. These priorities will be taken forward by an ambitious investment program of about €3 billion for the period 2019-24, with an outlay of €620 million in 2022 alone.
Looking to the future, the bank's goal is to continue to drive economic growth through responsible lending and by encouraging a savings culture among the Mexican public. As of the first four months of 2022, the total portfolio amounted to €62 billion, an increase of 9.8 percent year-on-year, and of 10.1 percent with respect to the same period in 2019. Customer deposit acquisition totaled some €67 billion, 14.8 percent more than in 2021 and 28.9 percent more than in 2019.
In the first four months of 2022, BBVA Mexico placed 552,000 credit cards, 79 percent more than in the same period in 2019. Consumer lending totaled €2.25 billion, up 20 percent, while new mortgages reached more than €1 billion from January to April 2022, up 35 percent versus 2019.
Support for diversity and inclusion is a mainstay of our global strategy for the coming years. Excellence in education is supported through the BBVA Mexico Foundation by granting scholarships to children and young people from high school through university. The 'Chavos que inspiran' program, first introduced in 2002, has awarded 400,000 scholarships to high-achieving, low-income students to help them complete their high school and university studies. In addition, BBVA has invested some €170,000 to provide 100 young people with disabilities with scholarships, to support academic excellence and create opportunities for them in the job market.
The BBVA Group is firmly committed to the environment and aims to migrate to an offering that supports economic and environmental sustainability. In 2021, BBVA Mexico financed sustainable projects for about €3.34 billion. The target for this year is to grant more than €4.25 billion in sustainable finance, with the bank retaining its lead in funding sustainable projects.
BBVA Mexico is leading the transformation of the financial system through investment, a firm commitment to innovation in products and services, ongoing improvement in processes to enhance the customer experience, and programs to attract and develop the best talent. These elements come together to help build a country of opportunities in the banking business and in the field of social responsibility.
¹The exchange rate is 20.95 Mexican pesos per euro, as of 06/07/2022.