Carlos Torres Vila at Money 20/20 Europe: "BBVA will play an even greater role in the innovation ecosystem"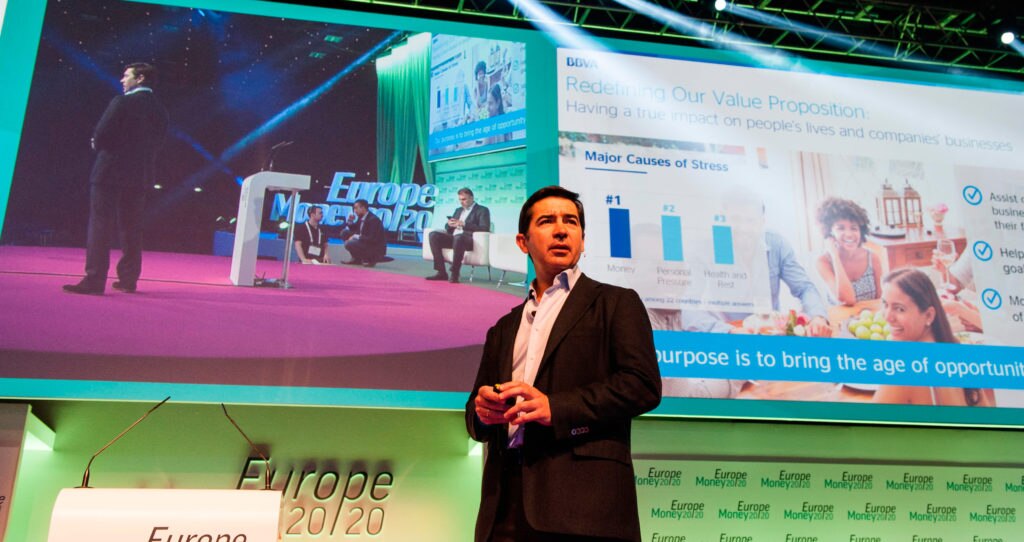 BBVA CEO Carlos Torres Vila explained the Group's plans to support the fintech industry and promote innovation – two pillars of BBVA's ambitious transformation process. In his address during this first edition of Money 20/20 Europe – the most important fintech event in the world – in Copenhagen, Carlos Torres Vila affirmed that "BBVA will play an even more prominent role in the innovation ecosystem thanks to our internal initiatives, strategic alliances with fintech players and the use of our platform, by building open APIs, as key drivers of growth."
Carlos Torres Vila focused his presentation on how the arrival of disruptive digital players (fintech) with superior value propositions and lower operating costs is disrupting both the banking sector and the international financial system as a whole. He also noted that new technological developments like Big Data, blockchain technology and artificial intelligence could change the banking business.
BBVA's CEO stressed to an auditorium full of tech entrepreneurs and finance executives that in just over three years, technology has caused customers to make unprecedented behavioral changes, who increasingly expect to be able to interact with their bank using their mobile phones. "This has led us to redefine our value proposition in order to become the best bank for our customers and give them the solutions they need to operate at the time and place of their choosing." He explained that the way to achieve this is by helping people understand their finances, offering them the best banking solutions and putting the best decision-making tools within their reach. Without a doubt, "our purpose is to bring the age of opportunity to everyone."
To accomplish this goal, Carlos Torres Vila explained that BBVA's strategy revolves around six priorities that will allow it to lead the way in the sector's transformation. He detailed three of them.
Focus on providing the best customer experience. BBVA's CEO explained that the Group aims to become a leader in customer satisfaction and is working in the design and development of convenient and simple solutions, with functionalities intended to make users' lives easier. He also underscored the growing use of Big Data to offer each customer a personalized value proposition.
Drive digital sales, especially using mobile phones. Carlos Torres Vila emphasized that BBVA has opted to launch new digital products (digital onboarding, one-click products, etc.) that have increased digital customers by 19%, reaching 15 million users, with 9 million using mobile banking. For example, he explained that consumer loans sold digitally have increased by more than 20% in Spain, Mexico and South America.
Develop new business models, both internally and through partnerships. BBVA's CEO explained that the Group's goal is to create new revenue streams and independent business models that help transform the Group. This strategy includes adapting to the new digital ecosystem, creating and finding partnerships and investing in disruptive models.
Carlos Torres Vila explained that BBVA's business focuses on five main areas:
Internal incubator. By designing, developing and applying internal initiatives, with the collaboration of resident entrepreneurs or developing projects in conjunction with strategic partners.
Strategic partnerships with fintech players. The goal is to explore new business opportunities, technologies and share knowledge. BBVA already has a partnership with startups like OnDeck and Dwolla and is analyzing further new possibilities in areas like lending, payments or authentication.
Digital M&A and direct investments. BBVA has built up its capabilities and expertise in design, big data and user experience by acquiring innovative business models, such as Simple, Atom, Holvi and SpringStudio.
Venture capital. This year, BBVA reorganized its venture capital investments through Propel, a new independent venture capital fund whose mission is to invest in startups that will revolutionize financial services.
Open platform. BBVA is committed to financial innovation. The Open Platform strategy means making banking services available to fintech players through open APIs that allow them to construct their developments in an agile manner, supported by BBVA in terms of scalability, risks, compliance and processing.
To conclude his presentation, the CEO specified that "BBVA is already becoming a better bank for its customers" thanks to a clear vision and a roadmap where support for the fintech industry and the promotion of innovation play a leading role.