Carlos Torres Vila receives BBVA Spain's regional advisory board members
BBVA's regional advisory board members gathered for their seventh annual meeting in the auditorium of BBVA's headquarters in Madrid. Antonio Garmendi, Chairman of the Confederation of Employers and Industries in Spain (CEOE), and Carlos Salazar, Chairman of Mexico's Business Coordinating Council (CEE) were invited to attend as guests. This year's meeting included participation from advisory board members from across Spain and a delegation of advisory board members from BBVA Mexico. Carlos Torres Vila, BBVA's Executive Chairman, inaugurated the session, which also included presentations from BBVA CEO Onur Genç and Cristina de Parias, Head of BBVA Spain.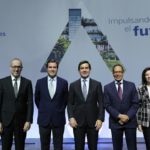 During his presentation, Carlos Torres Vila assessed the international geopolitical climate and the current global changes that are profoundly  impacting all sectors, especially finance. He also talked about the bank's recent advances in its digital transformation. In underscoring how BBVA is tackling social and environmental challenges in order to contribute to a more sustainable world, he said: "As catalysts for change, financial institutions play a key role in shaping the future. Our strategy will focus significantly on developing solutions that help our customers minimize both their environmental and social impact."
Cristina de Parias, who participated in a panel discussion with Antonio Garamendi and Carlos Salazar, emphasized the importance of the advisory boards as forums for debate on the social and economic topics that are most relevant to the different regions. She thanked the advisory board members for their confidence in BBVA.
Finally, BBVA CEO Onur Genç, in talking about how the bank is confronting the new challenges of the current macroeconomic landscape — with its low interest rates and new digital competitors — explained, "we have to give our customers a differentiated value proposition that will help them achieve both their personal and professional goals."
Forums to discuss regional topics of relevance
BBVA is an international bank and benefits from all the strengths that come with it. At the same time, it is a local bank with a spirit for serving its communities. The regional advisory boards add to this resolve because they are forums that provide consultation, assessment, and debate about relevant aspects of the social-economic reality in Spain's autonomous regions. Since 2010, BBVA has had seven regional advisory boards throughout the country, one for each territory management. Prominent members of the territory's business and social community participate in the boards as representatives for their respective territory. These regional boards help to maintain a close working relationship based on trust, which assists the bank with a first-hand understanding of customer needs in each of the regions where it operates.