Carlos Torres Vila: "The key to emerging from the crisis with strength is preserving jobs"
In order to emerge from the COVID-19 crisis as soon as possible, it is important to adopt measures designed to preserve jobs, especially for SMEs and the self- employed, said BBVA's Group executive chairman. At this point, "We need to put ourselves in the position of the self employed and business owners," Carlos Torres Vila said Monday night in an interview with Spanish radio station COPE. In this regard, he stressed the role of banks to help these business endeavors overcome the crisis.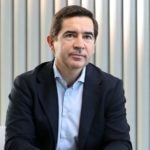 Interviewed by Ángel Expósito on the COPE program 'La Linterna' (The Lantern), Carlos Torres Vila recalled that banks in general, and BBVA in particular "are really supporting the self employed." BBVA currently has over half a million customers that belong to this group in Spain. For this reason, even prior to the Spanish government's announcement of lines of credit from the Official Credit Institute (ICO), the bank made €25 billion available as lines of credit to SMEs and the self-employed. After the announcement of the ICO lines of credit, he said, "We are approaching over 260,000 companies to offer them customized solutions, and of this amount, around 160,000 are self-employed."

In conjunction with the assistance provided by European and Spanish institutions, private initiatives play an essential role. "Large companies from around the world are helping and offering their management capacity, talent and resources to society," he said. "It's an opportunity to demonstrate to society that companies have a soul," and especially that banks "are part of the solution."
"It's an opportunity to demonstrate to society that companies have a soul"
Carlos Torres Vila recalled that since the onset of the crisis, BBVA has increased efforts and contact with other larger corporations and with the public sector as well, "with the sole purpose of helping save lives and mitigating the social and economic effects." He also reviewed some of the commitments the bank has made during this crisis, such as direct assistance for the purchase of healthcare materials; guaranteeing jobs, ruling out measures like collective or temporary layoffs; and the banks' leaders giving up their variable remuneration in 2020 on a global level and in all countries.
"We have helped with programs to facilitate payments, for example allowing mortgage moratoriums, beyond those stipulated by the government, and other loans," he said. Furthermore, one of BBVA's main priorities is "preserving the health of our employees." For this reason, more than 90 percent of employees in Spain are working remotely. In addition, "Our customers can continue working with BBVA without having to leave their homes," he added. Carlos Torres Vila offered words of special recognition to "colleagues who do have to leave their homes" to continue providing service in the 30 percent of branches that remain open.
"We will emerge from the crisis"
BBVA's Group executive chairman is convinced that "we will emerge from the crisis." However, in his opinion, the impact on the Spanish economy will greatly depend on how long the restrictions on activity last. "That's why we have a lot of uncertainty," he analyzed. From his perspective, the scaling back process will be key in this sense. Carlos Torres Vila is anticipating "sharp declines in economic activity" of around seven or eight percent of GDP in Spain in 2020. Estimates point to a year-on-year decrease in GDP of nearly -12 percent in the second quarter of the year.
However, he is predicting that this shock will be temporary and that "the very negative rates will go back to being very positive when this is over." Regarding the shape of the recovery, Carlos Torres Vila is confident that it will be more like a "V-shaped recovery" as that is the behavior the economy has shown following previous pandemics in other countries.
"The Eurogroup's final agreement is a good example of the fact that we can all gain from constructive consensus"
With respect to the future of the European Union, BBVA's Group executive chairman stressed that: "The lack of solidarity could undermine the European project." Solidarity and unity are fundamental to emerge from the pandemic, and not only in Europe, in his opinion. For this reason, he feels it is essential to "unite political forces, unite social actors." If action is taken in this direction, the European "project will emerge stronger."
He also recalled the benefits of having the umbrella of the European Union and European Central Bank, as well as the possibility of financing national aid programs in favorable conditions without significantly increasing interest rates on public debt. "The Eurogroup's final agreement is a good example of the fact that we can all gain from constructive consensus," he stressed. Nevertheless, he noted that, "Countries have to adopt policies that are also coherent with this joint effort."