How will banks be impacted by big tech (Google, Amazon, Facebook, etc.) entering the financial services industry? Can regulation promote a level playing field? These are some of the questions raised at the "Big Tech Banking" event organized by CUNEF (University of Financial Studies) and the Spanish Banking Association (AEB). BBVA joined financial experts and regulators participating in the event, where a common thought prevailed: data will play a key role in the battle between banks and Big Tech.
CUNEF brought together financial regulation and banking experts to coincide with the publication of the article "Competition and policy implications", written by Jorge Padilla and Miguel de la Mano (Compass Lexicon). The event aimed to analyze how big tech (Google, Amazon, Facebook, and Apple) companies joining the financial services industry could impact the ecosystem as we know it.
Banking Lab Coordinator and CUNEF Professor Santiago Carbó gave the opening presentation at the event, along with IESE Business School Professor of Economics and Finance Xavier Vives, who analyzed the role of regulation as a deterrent to big tech companies moving into the financial services sector. The battle, however, will be over customer data, which for the time being is a domain where banks have the advantage. "Banks benefit from keeping customer data private. This can be an important competitive advantage," said Xavier Vives.
The authors of the article question what the impact might be of regulation - like PSD2 - that aims to promote the expansion of the financial industry to include new actors. They feel that big tech could benefit from this asymmetric regulation and note that the biggest threat to banks will not come from fintechs, but big tech. The latter have the advantage of constant contact with customers, allowing them to get to know their intent to purchase in real time.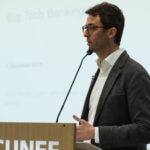 Álvaro Martín Enríquez during his participation in the event. - CUNEF
The need for a balanced regulatory framework
Lead Economist for Digital Regulation and Trends at BBVA Research, Álvaro Martín Enríquez, analyzed the content of the article presented at the CUNEF and AEB forum. In his opinion, it's important to take into account "the possible financial stability problems that could result from the big techs joining the banking sector". These big techs are part of digital ecosystems, with tremendous capacity to cross-check data.
There can be no artificial barriers to preserve the 'incumbents' position, but there also shouldn't be any impediments to the sector's transformation
Turning to regulation, he maintained that: "There can be no artificial barriers to preserve the 'incumbents' position, but there also shouldn't be any impediments to the sector's transformation". In this regard, he suggested "re-balancing the regulatory framework to avoid advantageous positions for some actors" - referring not just to big tech, but also to telecoms, for example, which will be able to access bank customers' data thanks to PSD2 - but not the other way around.
The BBVA Research economist also explained that big techs are not a "homogenous mass" - instead they have different business models. Some use data in a personalized advertising model, like Google and Facebook; others are "marketplaces", meaning that they use data to improve services or products, like Amazon and Netflix; and still others, do not have a dominant position in the markets, but do take advantage of regulatory gaps, like Apple Pay, which does not fall under the regulations for payment methods.
Looking toward the future, Álvaro Martín suggested several possible research areas related to this topic, such as how the government promoting access to unregulated data impacts competition. This, he explained, will take place shortly in Singapore, where the government will centralize data, guarantee free access to data and the terms of consent.
Similarly, Senior Manager of Public Policy at Santander, Gloria Hervás, believes that: "We need a regulatory framework that encourages competition and innovation, and is sustainable over the long-term." Regarding regulations like PSD2, she feels that it's important to explore the possibility of data from companies in other sectors also being shared with third parties,  "always with their consent".