Davos 2023: Moderate optimism and uncertainty over the impact of inflation
The impact of the war in Ukraine on global inflation and growth has been the recurring theme of this latest edition of the Davos Forum 2023, organized by the World Economic Forum (WEF). From January 16-20, and under the heading, 'Cooperation in a fragmented world', political, business and intellectual leaders debated the critical turning point at which the world finds itself, following the double impact of the COVID-19 pandemic and the war in Ukraine. Despite the prevailing economic uncertainty, attendees showed some signs of optimism for 2023, as the latest data, especially on prices, are better than expected.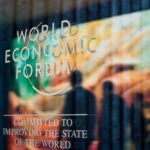 As noted by the WEF in its presentation at the Davos Forum, "for the first time since the 1970s, the world is facing a precarious imbalance with growth and inflation moving in opposite directions. This is occurring alongside greater geo-economic fragmentation." The big question that has dominated the forum over the past few days is what impact the aggressive interest rate hikes that central banks have undertaken to try to curb inflation will have on economies. In other words, whether the global economy is heading for a recession or whether it will be able to withstand the shock.
This year, Carlos Torres Vila, Chair of BBVA, and Onur Genç, BBVA CEO, attended the Davos Forum for the first time.
In an interview with Expansión newspaper, Carlos Torres Vila, stressed that Russia's invasion of Ukraine has had immediate economic consequences, such as a deceleration of growth and, above all, inflation. "I think this is the biggest problem now, especially because it increases social inequalities and generates a harmful dynamic within the economy. That said, the most recent economic data are better than expected, but we cannot let our guard down."
According to Torres Vila in an interview with CNBC television, what he has found at Davos is that people are more optimistic than they were a month ago and that is because the data is improving. "Inflation seems to be coming down faster than people thought, especially, on the energy side and some commodities," he said. "But we have to err on the side of caution, because inflation tends to be persistent and we have to see if second-round effects change this more optimistic view that people seem to have now." As he explained, rate hikes have a big effect on demand and we need to keep an eye on how it plays out. "China reopening is good news, of course, but it could be inflationary," he said.
On a more strategic note, the BBVA Chair has recently referred to the challenges facing the world, which have a lot to do with the emergence of a new world order that questions globalization as it has been understood until now. The war will have structural repercussions on strategic issues such as energy independence, technology and defense and data.
Decarbonization, the main challenge facing humanity
But the great challenge facing humanity, in his opinion, is decarbonization. In declarations made in Davos, he noted that it is essential and can only be achieved if two premises are met: the first is that the governments of developed countries redouble their financial support to emerging countries so that they join the race towards decarbonization. Without them, an emission-free planet is unattainable. The second premise is that the investment required for the world to operate emission-free must be attractive, economically viable and profitable.
"We are seeing an unprecedented wave of innovation, looking for solutions to complex problems such as emission-free steel or cement manufacturing; or CO2 capture; or electricity generation; new forms of emission-free generation such as nuclear fusion; and we need to continue to develop these technologies further," he said. "For them to mature and above all, for them to scale, we need a regulatory, supervisory, and legislative framework that accompanies them with appropriate incentives, as other countries such as the U.S. are already doing. Europe cannot lag behind and has to establish the right mechanisms and incentives to encourage investments in decarbonization."
BBVA Microfinance Foundation presents its progress one year after joining the Edison alliance
During his stay at Davos, Carlos Torres Vila took part in the annual meeting of EDISON, an alliance promoted by the Davos Forum to accelerate access to digitization for all, with a focus on financial inclusion, education, and health. At this meeting, the BBVA Chair announced that in the last two years, the BBVA Microfinance Foundation (BVAMF) has helped 3.3 million low-income entrepreneurs in the poorest areas of Colombia, Peru, the Dominican Republic, Chile, and Panama through its microfinance institutions, and has disbursed more than 2.3 billion euros to finance the progress of these entrepreneurs and their families. Throughout this time, BBVAMF has impacted the lives of more than 10 million people.