Seeing your checking account slowly but steadily drop throughout the weeks leading up to pay day may give you a sinking feeling yourself. If you're not paying close attention as it drops, you may end up even spending more money than you have in the account, which means you've overdrawn.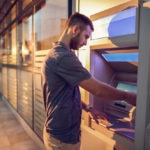 Overdrawing can leave you with an even worse feeling, particularly as you may be left with fees to pay, which eats into the money from your next paycheck. Overdrafts can be a vicious cycle, but it's one that can be broken, or at least tempered, with overdraft protection.
There are a variety of ways customers can have overdraft protection on their accounts, and generally avoid a non-sufficient funds fee - the fee incurred when an item is returned unpaid due to an overdrawn account - which can range from $12 - 38 per transaction, depending on the bank. That said, even with overdraft protection, customers will still typically pay an overdraft fee, though it may be smaller.
Below are the main types of overdraft protection:
Linking your checking account to another deposit account at the same institution. This can be either a checking or savings account, and when your checking account goes in the red, the bank will authorize a transfer from the linked account to cover the transaction. Typically a small fee is charged per incident.
Request an overdraft protection line of credit from your bank, which is a loan meant specifically to cover overdrafts. The cost of this loan including a fee per transaction and interest on the balance of the line of credit. It may also include an annual fee.
Link a credit card to your checking account. When an overdraft occurs, the credit card covers it. This may end up being quite expensive however, as there is typically a fee per instance, a cash advance fee and potentially have higher interest than regular purchases.
Opt-in to Courtesy Overdraft at the bank. By opting-in, you can make ATM withdrawals and debit card purchases, even if you do not have the funds in your account to do so. You will generally pay a fee on each transaction made against the negative balance.
Even if you have opted-out to courtesy overdraft, meaning the bank declines ATM withdrawals and debit card purchases, it may still pay check or ACH payments In this situation, the bank determines which check and card transactions to pay. You will still need to pay the non-sufficient funds fee, but your payment will go through, which could be important for items like mortgage payments or some recurring bill payments.
The bottom line is that whether or not you decide to be protected from bringing your account into the red is up to you and whether you opt-in or opt-out of overdraft protection, and if you're in, by which means. If you decide to opt-in, you will pay a fee for what is, in essence, a short-term loan from the bank. While for some people, the protection opting-in provides is worth it, for others, having their transaction declined and not incurring fees is the better option.
To read more on overdraft protection, check out What is Overdraft Protection and How Does it Work on BBVA Compass MoneyFit.
Finally, be sure to check with your bank for ways you can protect yourself. BBVA Compass provides a variety of ways customers can monitor their accounts for overdrafts, including account monitoring tools like online and mobile banking, and account alerts.
---
For more information, go to www.bbvacompass.com.