Digital disruptors take home top honors in BBVA Open Talent 2015 competition
Startups making their mark in lending took top honors in the regional finals in New York of the BBVA Open Talent 2015 competition, designed by the global bank to nurture the fintech ecosystem and support companies with great ideas.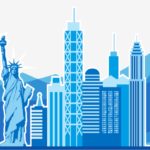 LendingFront, co-founded in January 2015 by CEO Jorge Sun and CTO Dario Vergara, is an integrated platform that gives lenders the business technology they need to provide short-term capital to small and medium enterprises.
ModernLend was founded in June 2014 by Kobina Ansah and Shuo Zhang, and is an online lender to international citizens in the U.S. that uses alternative data metrics to identify credit-worthy borrowers.
"LendingFront and ModernLend are deserving winners of this BBVA Open Talent final, and we're pleased to help them raise their profiles," said Gustavo Vinacua, director of Innovation Centers and Open Innovation at BBVA. "We anticipate that each of them will realize their potential as industry disruptors, and we look forward to working with them and learning new ways of thinking — and banking — from them."
LendingFront and ModernLend claim two of the six spots in the winners' circle for BBVA Open Talent 2015. Bitnexo and Destacame.cl were named the BBVA Open Talent 2015 winners from Latin America last week in regional finals in Mexico City. European winners will be named next week during that region's finals in Barcelona. LendingFront and ModernLend represent the U.S. and the rest of the world.
The judges for Open Talent were BBVA Chief Development Officer and General Manager of New Digital Businesses Teppo Paavola, Vinacua, BBVA Ventures Executive Director Jay Reinemann, BBVA Compass Director of Mobility and New Digital Business Technologies Chad Ballard, Managing Partner at Core Innovation Capital Kathleen Utecht and co-founder and CEO of Simple Josh Reich. They said LendingFront and ModernLend both used innovative approaches to address a standard banking practice, and that is one factor that pushed them to the top of the leaderboard.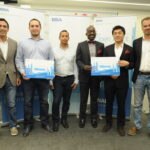 "BBVA Open Talent has been a game-changing experience for us," said Sun, of LendingFront. "To have a bank like BBVA say that what we've built means something is validation, and that is important and exciting."
As winners of BBVA Open Talent 2015, LendingFront and ModernLend will each receive 30,000 euros in prize money and a two-week immersion program in London and Mexico during which they will network with BBVA professionals, investors and others in the fintech ecosystem. They will also have the opportunity to enjoy a day of innovation in the kitchen of Spain's El Celler de Can Roca, BBVA's culinary tour partner, which landed at No. 1 again this year on Restaurant magazine's influential World's 50 Best Restaurants list.
"Over the past two days, we've had firsthand access to the mentoring capabilities of BBVA senior leadership, and we're ready and excited to meet other team members and learn even more during the immersion program," said Ansah, of ModernLend.
To twitter
BBVA Open Talent is an annual global competition and part of the BBVA Group's open innovation strategy.
Now in its seventh year, BBVA Open Talent is an annual global competition and part of the BBVA Group's open innovation strategy, which encourages partnerships with entrepreneurs and developers that are disrupting the financial industry. In 2015, BBVA Open Talent focused on fintech in order to discover the startups that could have a direct impact on the financial services industry, or other relevant industries, like e-commerce, user experience or big data.
"Judging by the entries in this year's edition of BBVA Open Talent, there is much to look forward to in the financial industry," Vinacua said. "BBVA intends to be a bank that thrives in the face of so much disruption, and we want to continue to find ways to partner and work with these innovative startups."
A winner of last year's competition, Epiphyte, was on hand to demonstrate technology it's pioneering that uses the blockchain for peer-to-peer and remittance payments.