The revolution brought about by e-commerce  keeps breaking barriers. Not only has it changed how people sell and buy in the cities, it has also completely changed the life of a lot of people, and even entire towns, in rural areas.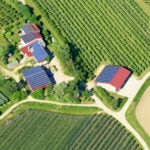 The e-commerce phenomenon is still on the rise in China thanks to the "Taobaovillages," where most of their residents works in e-commerce and use the Taobao platform, which is managed by the Chinese portal Alibaba (e-commerce wholesaler which has surpassed Walmart as the leading world seller).
At the end of 2014, there were around 70,000 traders in 200 Taobao villages. And to these, we should add other villages that focus on e-commerce but use a different platform. There are currently 780 Taobao villages across China, particularly in the Zhejiang, Guangdong and Jiangsu provinces.
In general, these are small stores and, according to the report on world development by the World Bank, they have 2.5 employees on average; a third of the owners are women; a fifth of the employees used to be unemployed; and 1% of the employees have disabilities.
While the coastal city areas in China have grown fast over the last 30 years, the rural and western areas of the country were left behind. However, China's major investment in rural connectivity has paid off. In 2015, e-commerce rose 18% more in rural areas than in the cities.
According to AliResearch (Alibaba's research agency), to be a Taobao village a village needs to have annual online transactions amounting to more than 10 million yuan (1.38 million euros), more than 100 online retailers , or more than 10% of families in the village need to be involved in e-commerce.
Also, the World Bank's report shows that this phenomenon can promote financial inclusion. As an example, at the beginning of 2015 the Ant Financialfinancial firm owned by Alibaba entered into a partnership with International Financial Corporation to expand credit for Chinese enterprises.
Given the current situation, the Chinese government has decided to work on rural areas and invest 1.4 billion yuan (19.5 million euros) to improve the internet infrastructure and connectivity of China's rural areas.
Alibaba and other companies dedicated to e-commerce all share the common trait of regarding data as their greatest weapon. Each sale gives them more information that brings them closer to the consumer, and their tastes and preferences.