Mario Draghi did not surprise anyone yesterday. As expected, the European Central Bank (ECB) unanimously decided to leave interest rates unchanged. He also did not announce any immediate changes to the asset purchase program. However, he did offer some clues as to the direction the ECB will follow after the summer.  As BBVA Research notes in its ECB Watch report, the discussion on gradually tapering QE (Quantitative Easing, the ECB´s asset purchase program) will take place in the fall – most likely in September.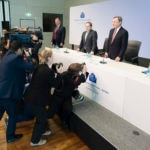 Yesterday's ECB meeting did not produce any changes: the central bank left key interest rates at their current levels  (interest rates at 0% and the deposit facility rate at -0.4%) and confirmed its intention to purchase €60 billion in assets every month until the end of December 2017, or beyond, if necessary. Draghi stressed the unanimous decision not to change the ECB's forward guidance on monetary policy.
In terms of next steps for the monetary policy normalization process - the focus of the questions to the ECB President during the press conference - Draghi made it clear that the decision will be taken in the fall, BBVA Research reported.
He called for patience, because inflation pressures remain subdued for the moment but eventually will return. "We are finally experiencing a robust recovery where we only have to wait for wages and prices to follow course," he said. He was cautious, as "inflation is not where we want it to be and where it should be." Inflation was at 1.3% in June, far from the ECB target of being close to, but under 2%.
Mario Draghi: Inflation is not where we want it to be and where it should be
Mario Draghi affirmed that possible tapering scenarios of the asset purchases were not discussed after the markets accelerated their expectations on monetary policy normalization over the past month, following Draghi's upbeat speech in Sintra. "We have not set a date for when to discuss changes," he said.
Mario Draghi: We have not set a date for when to discuss changes (on monetary policy normalization)
According to BBVA Research, "The message from the ECB was in line with expectations, as the central bank left its monetary policy unchanged, maintaining a cautious tone."  Regarding the normalization process, BBVA Research's scenario remains unaltered: it expects the ECB to make changes in its communication in September (or October at the latest) and open the door to a slower pace of asset purchases in early 2018.