The European Central Bank's statement and press conference, following the monetary policy meeting held on Thursday, July 25, was one of those examples of pre-announcement of upcoming measures. "It seems quite clear now that a depo cut will be decided soon (we expect it for September now)," says BBVA Research in its latest ECB Watch report.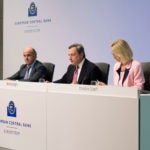 The change in tone that ECB Chair Mario Draghi has shown recently hints at an easing of the monetary policy. What is yet to be seen is to what extent the ECB will be willing to act. At its July 25 meeting, the European monetary authority kept interest rates unchanged but advanced possible upcoming measures that could be announced right after summer.
In his appearance, Mario Draghi reiterated that policy rates will remain at "present or lower levels", opening the door for rate cuts soon. His main concern is the euro area's inflation rate, which remains persistently low. But he also expressed his doubts about the recovery of the Eurozone's economy in the second half of the year. ""Outlook is getting worse and worse. And it's getting worse and worse in those countries where manufacturing is very important," he noted, in reference to Germany and Italy.
Although the ECB has still not announced any changes in its growth and inflation forward guidance for the region, it is expected to do so in September. This would signal de beginning of new measures. "Moreover, the ECB has asked its Staff to study ways to provide further easing, which is the usual formula used when it is ready to act," says BBVA Research's report.
BBVA Research expects the ECB to adopt a series of measures, including a further cut in the deposit facility rate (currently at -0.40 percent) in September, a tiered system for the balances deposited by institutions in the Central Bank – which he did not specify – to mitigate the impact of the collateral effects of negative rates on the banking system. "We still think that further quantitative easing measures [debt purchases in the secondary market] will not be approved in September, given the lack of unanimity, and the need to keep a second bullet in case it is needed," argue BBVA Research economists. "But its probability has no doubt increased."