The ECB makes its first move by closing the door on interest-rate cuts
As the markets expected, at its June meeting the European Central Bank (ECB) closed the door on further interest-rate cuts and adopted a more neutral stance on risks, although maintaining caution. Despite the fact that the institution has not yet given signs of taking a step to exit the current monetary policy, the ECB Watch report published by BBVA Research suggests that in September it may announce a slowdown in asset purchases starting in 2018.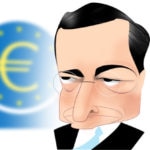 The ECB's growth outlook for the Eurozone is more positive, at 1.9% in 2017, 1.8% in 2018 and 1.7% in 2019. In contrast, its inflation forecast remains unchanged. In addition, at the meeting of its Governing Council held last Thursday in Tallinn (Estonia), the ECB decided not to modify interest rates. The bank headed by Mario Draghi has kept official interest rates unchanged for the main refinancing operations, the marginal lending facility and the deposit facility, at 0%, 0.25% and -0.40%, respectively. However, the Eurozone's central bank has slightly modified its bias and adopted a more neutral tone in noting that it expects interest rate to remain at these levels (denying the possibility that they could be lower, as it announced in previous statements) "for an extended period of time."
"We need to be patient and confident," said Mario Draghi in the press conference held this Thursday. In his opinion, an expansive monetary policy must continue to support European economic recovery for some time, although he recognized that deflation risks are no longer there, and uncertainty on the path of inflation had decreased.
In terms of unconventional monetary policy measures, the ECB's Governing Council has announced that monthly asset purchases would continue at €60 billion until the end of the year, "or longer if necessary," until inflation is seen to maintain a sustained trend close to its target. "If the outlook becomes less favorable, or if financial conditions become inconsistent with further progress towards a sustained adjustment in the path of inflation, the Governing Council stands ready to increase the (asset purchase) program in terms of size and/or duration," explained the ECB in its press release.
Despite this statement, BBVA Research maintains its baseline scenario, which expects that the monetary authority of the Eurozone will open the door in September to a slowdown of asset purchases starting in 2018.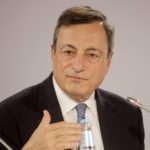 Mario Draghi, presidente del BCE, durante la rueda de prensa celebrada en Tallín el 8 de junio.