As expected, the ECB left its monetary policy and interest rates untouched and did not make any significant announcements at its January meeting. Mario Draghi's comments on inflation do deserve special attention, however.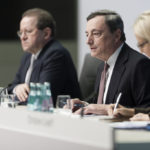 This means that 0% interest rates, -0.4% rates for the deposit facility and the €80 billion of monthly purchases will remain in place (although monthly purchases will decline to €60 billion between April and December 2017). The European institutions also reiterated its intention to maintain the low interest rate policy for an extended period of time, beyond the asset buying program.
As BBVA Research noted in its ECB Watch report, the ECB drew attention to higher growth in the eurozone. However, the central bank recognizes the risk surrounding the eurozone, especially due to global factors, although it's too early to determine how the new U.S. government or the Brexit negotiations will affect Europe.
The most notable part of the meeting, according to BBVA Research, was Mario Draghi's opinion of the recent rise in inflation (it reached 1.1% in December 201 - its highest point since 2013). For Draghi, this increase is a reflection of rallying energy prices. And he added that although the risk of deflation in the eurozone has disappeared "the rise in inflation must be durable, sustained and visible across the euro zone, even when extraordinary monetary policy disappears."
The ECB will continue providing support for the eurozone's economic recovery in the short-term. BBVA Research feels this is positive in a context of great uncertainty, both globally and in Europe. That said, they warn that a negative scenario with low interest rates for an extended period of time has associated risks for financial stability.
In short, BBVA Research takes a positive view of the improving growth outlooks and expectations for higher inflation, which will make it easier for the ECB to normalize its policies at some point.