Eduardo Osuna (BBVA Bancomer): "Technological platforms will play an important role in meeting the demand for credit and banking services"
Mexico's banking market is in the middle of an expansionary period due to demographic factors and the macroeconomic stability that has been attained over recent years. This has produced a growing demand for credit in several different sectors, permitting a positive financing outlook that could reach the equivalent of 40% of Mexico's Gross Domestic Product (GDP) in the coming years.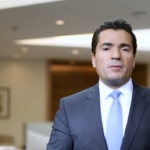 Eduardo Osuna Osuna, BBVA Bancomer vice president and general manager, has a clear vision of the strengths and challenges of Mexico's banking market, as well as of the evolution that will take place in the demand for credit in the coming years. An environment where he sees technological platforms playing a very important role.
Regarding the developments and opportunities in the banking business, Osuna says that BBVA Bancomer is the leading bank in the Mexican market in terms of credit portfolio, sales, number of offices, the modern network of ATMs and the number of customers – 18.3 million.
"We are very devoted to a transformation process we have launched with a $3.5 billion investment. This has strengthened our customer relations capacity through technology and a stronger infrastructure," he stressed.
He emphasized BBVA Bancomer's opportunity to "continue focusing on the growing domestic demand" which can be explained by the low credit penetration in Mexico. "We expect to reach 40% of GDP in credit penetration around 2018. The other component has to do with the macroeconomic stability over the past decade, which we expect to continue in the coming years, and also to demographic issues as more people join the work force."
"As a result of the investment plan, there have been significant accomplishments that we can list," he added, "the first major accomplishment is the three new corporate headquarters; the second is the remodeling of 1,821 offices, not just physically but we are also adding more tellers and ATMs; the third accomplishment is the technological platforms."
BBVA Bancomer will continue evolving, supporting three large sectors: credit for individuals; the second will be the small and medium enterprises (SMEs) due to the job creation taking place in this sector; and the third is supporting the country's traditional farming sector, which is mainly driven by export companies.
"We expect to reach 40% of GDP in credit penetration around 2018
"We have worked in digital banking over the past few years and customers see its value. We are going to continue evolving our products and improving our services and customer relations, enhancing their experience," he added.
As a sign of his confidence in the future, Osuna mentioned the strengths of digital banking: "There are three main digital applications. The first is Wallet, a response to all the increase in e-commerce in the world using a credit card; mobile Bancomer, where we are placing the bank's entire experience and capacity on customer's cell phones, and bsend, a very efficient way of sending money where we have simplified and bolstered money transfers because the Mexican market is ready to adopt these technologies."
Challenges for 2016 y 2017
One of the challenges for 2016 and subsequent years is to continue evolving, explains Osuna. "First, we have to complete the $3.5 billion strategic plan we launched. It's a plan we will mostly complete in 2016 and one part in 2017, especially remodeling offices."
It's important to note that "we relaunched this strategic plan for the next three years. We have identified 7 priorities:
Of course, customer experience is the first one
Drive digital sales
New digital businesses – we have attracted fintech firms
Optimize capital allocation
Achieve unrivaled efficiency
Develop a first class workforce
Promote Corporate Social Responsibility issues.
This confirms BBVA Bancomer's commitment to Mexico, to the society it serves, reaffirming its leadership in the Mexican financial market, which boasts a positive outlook".