The EIB and BBVA will provide €300 million to finance innovation and digitization of Spanish SMEs
The European Investment Bank (EIB) and BBVA have joined forces to help provide Spanish SMEs the funding they need to implement their digitization and innovation strategies. EIB Vice President Román Escolano, and the Head of BBVA Spain, Cristina de Parias, signed an agreement today in Madrid through which the EIB will provide BBVA €150 million to finance SME investment projects related to innovation and digitization. BBVA will provide an additional €150 million of its own resources to fund this new line of credit.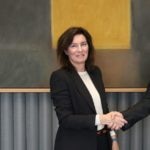 This is the first EIB operation in Spain that is entirely dedicated to promoting and financing innovation and digitization in SMEs, including funding for initiatives that allow them to digitize their operations. By implementing the latest technologies, companies that access this funding will be able to optimize and modernize their processes and teams, improving data management, their web portals or business marketing, for example. These investments will allow them to ensure their competitiveness, therefore helping to generate wealth and create jobs.
The agreement signed today makes BBVA the first bank in Spain to collaborate with the EIB on this new credit line. It will enable the financing of up to 100% of projects no greater than €12.5 million for small businesses and €25 million for mid-size companies (up to 3,000 employees). The companies that access this credit line will benefit from the EIB's favorable conditions, both in the repayment terms and the interest rate.
At today's event in Madrid to sign the agreement between both institutions, the EIB Vice President pointed to "EIB's important work in helping to boost the Spanish economy by joining forces with the banks. This agreement is a clear demonstration of our priorities in Spain: to provide the necessary funding to ensure the SMEs' growth and competitiveness, by supporting their investments in innovation and digitization."
According to Cristina de Parias, Head of BBVA Spain, this agreement "confirms the strength of the relationship between BEI and BBVA," showing once again that they are pioneers in innovative initiatives, such as the one signed today. She stressed that SME's are key to the growth of the Spanish economy. "This agreement will promote digitization, competitivity, internationalization and, as a result, the growth of these companies. At BBVA, we want to offer and create opportunities for our customers. Without a doubt, accompanying SMEs on their road to modernization reaffirms our purpose."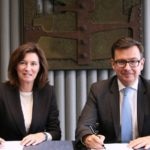 The Head of BBVA Spain, Cristina de Parias, and EIB Vice President, Román Escolano, signed the agreement.
Eco loans for action against climate change
The EIB and BBVA signed another agreement today to support investments that help fight climate change. Specifically, the EU bank will provide BBVA a €20 million loan to finance projects to improve energy efficiency and promote the use of renewable energy sources in order to lower polluting emissions and greenhouse gases. The first operation of this kind that the EIB has signed in Spain, it is supported by the Spanish Office of Climate Change (OECC), an agency of the Ministry of Agriculture, Fishing, Food and Environment. Companies who apply for this type of eco-credits can be from any industry, as long as they demonstrate that their investments will help improve the sustainability of production processes.
Apart from companies, public institutions can also apply for loans under this new EIB credit line to fight climate change, as can homeowners' associations and individuals. They can use this funding to save energy and use renewable energy sources in their buildings or homes.
Financing for the Spanish agricultural sector and SMEs
Lastly, with the goal of facilitating SMEs' investments, the EIB and BBVA signed two additional loans today. The first is for SMEs in the agricultural industry. They can benefit from the favorable terms of the EIB credit line for this sector, thanks to today's €50 million loan to BBVA. Finally, the EIB also granted BBVA a €200 million loan to finance SMEs in Spain.