El Bosco. El jardín de los sueños (Bosch: The Garden of Earthly Delights) will premier in Mexican theaters this weekend. Directed by José Luis López Linares and sponsored by the BBVA Foundation, the documentary will also be released in the U.S. on September 24th.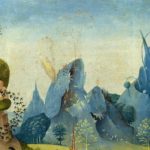 The Prado Museum's Bosch exhibition that marks the 500th anniversary of the artist's death will not end within the walls of the Madrid-based museum thanks to the documentary directed by José Luis López Linares and co-produced by the Prado Museum, movie theaters around the world are becoming one more room of this historic collection. A room where all eyes are on The Garden of Earthly Delights, the Dutch painter's most famous and enigmatic painting.
In this 90 minute movie filmed in 4K, thirty people from the arts world share their personal experience with the painting with the audience. They stand in front of the triptych and describe how the painting inspires them or guess what the artist is trying to tell us. Some sing, others get emotional, surprised or simply fall silent.
Writers like Orhan Pamuk,  Cees Nooteboom, Salman Rushdie and Nélida Piñón; artists like Miquel Barceló, Cai Guo Quiang and Isabel Muñoz; musicians like Ludovico Einaudi, William Christie, Renée Fleming and Silvia Pérez Cruz; and intellectuals like John Elliott, Carmen Iglesias and Xavier Salomon are the supporting actors in a movie whose "main character is a painting," affirms López-Linares
El Bosco. El jardín de los sueños will play in Mexico on September 17th and 19th at the 27 Cinépolis' theaters across the country. Starting September 24th, it will also play in Millerton, New York; Miami, Florida; Santa Fe, New Mexico; Larkspur, California; Sedona, Arizona; and the Detroit Institute of Arts in Michigan.
The film will also be released on October 27th in more than 40 movie theaters in France. England, Italy, Poland, Hungary, and the Czech Republic have also expressed interest in the release of this landmark documentary commemorating the 500th anniversary of Bosch's death.
The documentary's success is parallel to that of the Prado Museum exhibition, Bosch. The 5th Centenary Exhibition, sponsored exclusively by the BBVA Foundation. More than 428,527 people had seen the exhibition by the end of August.
The Madrid art museum decided to continue offering the Bosch exhibition until September 25th, with extended hours: Monday to Thursday from 10AM to 10PM and Friday, Saturday and Sunday from 10AM to midnight.