BBVA: digital leader in Spain, where nearly seven out of ten customers are already digital
Out of all of BBVA's customers in Spain, 67% are digital and 61% use their cell phones to engage with the bank. This means that the vast majority of BBVA customers in the country opt for the website or the app to connect with the entity. The pandemic has driven the digitization of customers who, until now, were not familiar with the use of these channels. All this, together with the fact that BBVA's app is the most used in Spain among all banking applications according to a report by Smartme Analytics, places BBVA as a leader in digital banking in Spain, with a market share of 22.2%.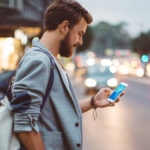 Since the beginning of the COVID-19 crisis, the number of accesses to BBVA's digital channels has grown, particularly to the app, whose visits have increased by 18% since January to nearly 82 million accesses in October.
In general terms, BBVA's app had become the most app used among all banking applications in Spain until last September. This places BBVA as a leader in the digital market, with a total market share in Spain of 22.2%. A fact make clear from the latest index by Smartme Analytics on the use of banking applications in Spain.
Smartme Analytics' Mobile Performance Index (MPIx) monitors the use of more than 90 financial applications in real time and identifies the entities best positioned in the mobile channel with its own algorithm. According to this report, all age groups have increased their use of BBVA's app, but it makes particular mention of Generation Z users (those born between 1994 and 2010), among whom usage has grown by 12.8%.
Smartme Analytics stresses how mobile banking has experienced a major boost in the third quarter of this year and says that "many users have decided to try new digital banks during the lockdown" to make, for example, online purchases.
The current crisis has confirmed an already widespread concept among financial service customers and, in particular, BBVA's customers. The benefit of being able to perform many of the most common transactions and operations remotely, without having to go to a branch. Since March, 780,000 BBVA customers in Spain who until now did not use digital channels to engage with the bank have started to do so.
Interest in personal finance management grows
As for the profile of customers using digital channels, until September, there was an increase in app use among customers aged 24-35 and customers older than 45 (vs. September 2019).
Customers also spend more time understanding and managing their personal finances. In other words, the changes in their income and expenses, the collection of their bills, etc. In particular, 35.48% of BBVA's digital customers use the bank's financial health tools, and 40% of those who check their expenses or investments spend more than five minutes on this operation.
The most common transactions include: mobile payments, which have doubled so far this year and are already 11.8% of the total payments; payment of levies and taxes, which has grown by 60% until September (year on year); and transfers, which have also doubled in September this year vs. 2019.