At 35 years of age, with a world cup under his belt, Cristian Zaccardo can brag about becoming an unusual pioneer in the world of soccer. After terminating his contract with Vicenza, the Italian center back found a new destination thanks to the professional social network. He will now be defending the colors of Malta's Hamrun Spartans.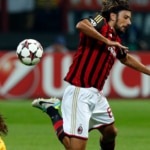 In the middle of the summer, Cristian Zaccardo made headlines around the world after advertising for a new team through his LinkedIn profile. The Italian, a member of the national team that won the 2016 FIFA World Cup, turned to the career networking platform to showcase his strengths and look for a new team. It took him a while, but he finally got the response he was looking for.
While not a top destination, Zaccardo has found a team ready to secure his services: Hamrun Spartans, a team that plays in the Malta's first division.
"I received all kinds of offers: from America to Australia, from Canada to Greece. Hamrun Spartans also contacted me via Linkedin. The prospect of being one of the leaders of change in the Maltese Premiere League was what convinced to take on this challenge," said Zaccardo speaking to 'La Gazzetta dello Sport'.
His LinkedIn Job Posting
"I'm still good physically. I could play two more years at high levels. Who will take me to make a deal. Serious professional soccer player and strong. !!! (sic)". Zaccardo made this posting both in both Italian and English.
The last team Zaccardo played for was Vicenza, which got relegated last season to the Italian third division.
Zaccardo's resume
About to turn 36, the Formigine native will land in Malta after a successful career that includes stints at Palermo, Parma and A.C. Milan in the Italian Serie A or Wolfsburg, in Germany's Bundesliga. A roster of teams that was not enough to spark the interest he expected from other teams, until he resorted to LinkedIn.
BBVA still looking for talent for its digital transformation
In order to continue driving its transformation process and bring new skills into its workforce, BBVA focuses on attracting, training and retaining talent.
To stay up to date about career opportunities at BBVA, please visit BBVA Careers and follow us on LinkedIn.
Photo: Agencia EFE