Deloitte's Millennial Survey 2016 reveals that the generation born before 1982 wants companies to place ethical criteria before financial ones.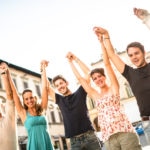 Greater flexibility in the workplace, work-life balance and corporate ethics are what the millennials are demanding from companies. Deloitte's Millennial Survey of 7,700 young people born before 1982 also highlights that 44% intend to leave their current job in the next two years, a percentage that rises to 66% when asked about their expectations for 2020.
The report indicates that 44% of millennials have turned down a job on some occasion because they didn't agree with the company's values, and 56% have definitively ruled out working with certain companies for ethical or moral reasons. The vast majority (87%) agree that the success of a company should not be measured only by financial criteria.
Read the full report here.