Fintech Friday: Money 20/20 Celebrates Its Sixth Year in Las Vegas
Money20/20 USA, the world's largest fintech and payments event, took place earlier this week in Las Vegas. The annual event, now in its sixth year, touts itself as the place where the payments, fintech and financial services create and explore the ways consumers and businesses manage, spend and borrow money.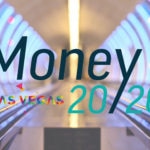 Leaders from every sector of the financial services industry were on hand to take advantage of business opportunities, connect with peers and learn about the latest disruptions, including celebrity keynote speakers from Richard Branson to Shaquille O'Neal. Representatives from FICO, Microsoft, BlackRock, Amazon and CitiGroup participated in speeches, presentations, and lively debates, as did Derek White, BBVA's head of Client Solutions. White was part of the Leadership Loft -- U.S. versus the rest of the world -- debating where to find the best user experience, what country best builds a bank, and where to find the best regulatory set up for establishing a new digital bank. (Spoiler alert: the rest of the world won).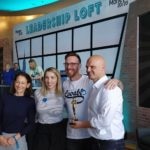 The Rest of the World (ROW) team picking up their award: Melissa Guzy (Arbor Ventures), Megan Caywood (Starling Bank), Simon Taylor (11:FS) and Derek White (BBVA).
White also joined a panel discussion with Jim Marous of The Financial Brand and Vanessa Colella of Citigroup to talk about the future of banking: fintech or techfin.  "The average person visits a branch maybe 10 times a year, but they'll visit their mobile app 300 times a year," White said. While acknowledging that building an exceptional small-screen user experience is a critical component of digital interaction, White said data would be its future.
White: We have to recognize it's not just the experience, it's not just about the money. It's about the data that underpins it...
"We have to recognize it's not just the experience, it's not just about the money. It's about the data that underpins it, and how we bring the data into every single interaction to make it smarter," White said. "Then as you move from that you get into self-driving and truly autonomous banking."
White also said that the cost of building such an experience was not what drove BBVA. Instead, he said, the pervasive belief was that fulfilling customer needs was the most important thing, and the costs of doing so would take care of themselves by building for them in a beautiful and amazing way.
Money 20/20 USA wrapped up its fourth and final day with speakers from Ripple, FICO, OVO  Grab, Akoin and others.