Thoughts were shared recently about what potential fintech entrepreneurs should be wary of when first starting out. A particular piece by Forbes outlines key tips from top leaders in the fintech world, including representatives from companies such as Instant Financial, Alpha Vantage and more.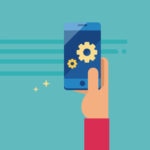 Aside from the astute advice, other developments in the world of fintech include a revolution of sorts and fireside chat in the Peach State.
Here's what you may have missed in the fintech headlines this week:
Getting top insight: Leaders from successful fintech companies give their thoughts on what to consider when entering their world. Thoughts range from UX, automation, purpose and optimization, among others. (Source: Forbes)
"Techfin": According to the World Fintech Report 2018 from CapGemini and LinkedIn, in collaboration with Efma, "Most successful fintech firms have focused on narrow functions or segments with high friction levels or those underserved by traditional financial institutions, but have struggled to profitably scale on their own. Traditional financial institutions have a vast customer base and deep pockets, but with legacy systems holding them back." (Source: Forbes)
A voice and chat revolution: Chatbots continue to get more sophisticated, even taking a page from digital assistants like Alexa and Google Home by adding voice capabilities, and it's increasingly clear that customers are going to start expecting that their interactions with companies be via conversational user interfaces (CUI). (Source: Venture Beat)
Georgia on their mind: To understand the economic growth of the state's fintech industry, Venture Atlanta has invited two of the city's most knowledgable business leaders, CEO of First Data Frank Bisognano and president and CEO of the Metro Atlanta Chamber (MAC) Hala Moddelmog, for a fireside chat to discuss the growth and innovation opportunities related to Atlanta's fintech industry. (Source: Hypepotamus)
Note: Every Friday, BBVA Compass, a leader in the U.S. digital banking revolution, publishes its weekly Fintech Friday article, giving you headlines you might have missed in the world of fintech across the country.