Francisco González at Davos: "We have to transform the bank into a digital company as soon as we can"
BBVA's Group Executive Chairman Francisco González told a meeting of world leaders today that: "We have to transform the bank into a digital company, a services company, as soon as we can." He was speaking at a high-level panel discussion held during the World Economic Forum at Davos entitled "The Global Business Context." For the BBVA Chairman, the challenge is to be as efficient as the internet giants, and to attract the best digital talent.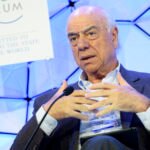 Francisco González explained that in setting the right benchmark, he is concerned about "the new guys, the giants of the net and startups," and that's why we have to be as efficient as them and speed up our transformation process.
The BBVA Chairman also explained that it's impossible to carry out a digital transformation with just conventional teams. He added that this was why the Group has worked hard to acquire the best digital talent from across multiple industries, combined with experts in finance, which has given way to a new breed of professionals with a great capacity to accelerate change and adapt themselves to the new reality. "As soon as we provide our customers the right platforms and services, they are extremely happy," he said.
Francisco González also spoke about how the financial world is changing at a dizzying speed, due to technological disruption. He predicted that in the near future there won't be a place for the 20,000 banks that currently operate. However, he stated that banks such as BBVA have a competitive advantage: data. "I don't see BBVA as a bank, I see BBVA as a digital company which has information, and that information can be turned into a mortgage or into different services," he said.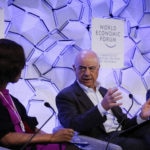 Jacqueline Simmons, editor of Blomberg News; Francisco González, BBVA Chairman; and Linda Yaccarino, Chairman, NBCUniversal Advertising, Sales and Client Partnerships.
As an example of new entrants with a great technological capacity, the BBVA Chairman pointed to China as a market that has rapidly begun to consolidate its leadership, with companies such as Alibaba and Tencent entering the financial world with great success. "China is an incredible power, they are expanding their power all over the world," he said. "The Western world has to wake up very soon, very quickly, in order just to compete."
Given this new technological paradigm, Francisco González said, the role of regulators is very important. This is a time of enormous disruption that in some cases will have negative collateral effects. Regulators, he said, must be there to put order into the transformation process that is taking place.
Francisco González was joined on the panel by Salil S. Parekh, CEO of the technology company Infosys; Bill Thomas, president of KPMG Canada; and Linda Yaccarino, Chairman, NBC Universal Advertising, Sales and Client Partnerships. The session was moderated by Jacqueline Simmons, editor of Bloomberg Business News.
The panel also addressed a series of topics such as digital transformation of the value chain, the promotion of inclusive growth and diversity in the workplace. On the latter topic, Francisco González noted that 54% of BBVA's workforce are women. "You can't squander the talent of women, they are a great opportunity for the bank," he said.