Francisco González shares BBVA's digital transformation case with Harvard Business School faculty
BBVA Chairman & CEO Francisco González participated in the Strategy Research Conference, organized by the Harvard Business School to analyze how large multinationals are changing their strategies to respond to technological change. Besides Francisco González, other top executives from companies such as PepsiCo and Mozilla took to the stand.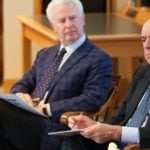 In his address, Francisco González underscored that "technology will be the driver of a dramatic improvement of productivity and efficiency in banking, on the same scale as that experienced in other already digitalized industries." And this is not something that will happen in a remote future, warned BBVA Chairman: "It's already underway and will only accelerate."
Dozens of startups are already disrupting many segments of the banking value chain and taking advantage of technology to offer a superior customer experience. "In 2014, Fintech companies attracted over 12bn dollars of investment. Investments for the first half of 2015 have already exceeded 13bn dollars."
Most of these newcomers – even big digital companies such as Amazon, Google or Apple - are still relying on (conventional) banks for banking infrastructure and keeping themselves largely on the fringes of the banking system, mainly due to regulation. And, in this environment, Francisco González is convinced that this window of opportunity that is open today for banks "will close before long" and that the change that banks need is a "need is a long, complex process, involving not only technological transformation but also a profound organizational and cultural change."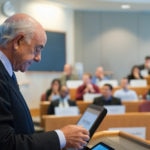 A Knowledge-Based Bank
In BBVA Chairman and CEO's opinion, this transformation should be oriented towards making banks maximize their most important competitive advantage: Data. "Banks should become data driven organizations in order to deliver knowledge banking:  new and better financial products and services, based on information and better suited to every customer's needs and expectations."
Keeping this goal in mind, in recent years BBVA has focused on strengthening its data analytics capacities, setting up BBVA Data & Analytics, and incorporating top digital talent into the bank's workforce. "Our Big Data teams in Spain and in US are already working in areas such as, customer analytics, processes, risk & fraud, and new data products," explained Francisco González.
BBVA Chairman and CEO shared his conviction about BBVA's progress: "We have come far, and we feel that we are now in a position to lead the transformation of the banking industry, and become the first knowledge based bank."
But, technological change continues apace, and society is changing with it.  "We are witnessing the dawn of Big Data technology, the Internet of Things is just taking off, and Artificial Intelligence is in its infancy. So we are running a race which has no finish line, nor a pre-fixed route. We don't even have a set of rules to guide us in our efforts," concluded Francisco González.