Former Marine and new back end developer Jake Downard gets his day started early. While we could easily attribute that to his Marine training, he's more likely to tell you that it's because he's just excited about his job.
Downard is a part of a team of back end developers at BBVA Compass, but he's among an elite group trained at one of Birmingham's newest programs to help develop a tech workforce among the underemployed and unemployed in the burgeoning tech city. The program, dubbed I Am Bham, is part of the Innovate Birmingham Workforce Development program, a set of three educational pathways that were funded by a nearly $6 million America's Promise grant awarded to the city in 2016. BBVA Compass is among the program's 30 some odd hiring partners.
"Innovate Birmingham, specifically I am Bham, has changed my life," Downard says. "I came out of the Marines interested in programming, but was only able to teach myself so much. Through the GI Bill, I enrolled at UAB, but as an older student, was not interested in rehashing some of the basic courses. Fortunately, I found I am Bham through a series of circumstances – including a chance meeting at a restaurant where I was working."
Ironically and fittingly for Downard, I am Bham is a boot camp – a 14-week, 9 a.m. to 5 p.m. Monday-through-Friday boot camp that trains young residents of the Magic City in Full Stack and Front End Web Development. Similar to Marine boot camp, where young recruits finish with a position in the armed forces, the I am Bham boot camp claims that upon graduation, students are ready for immediate employment in Birmingham's fast-growing IT field.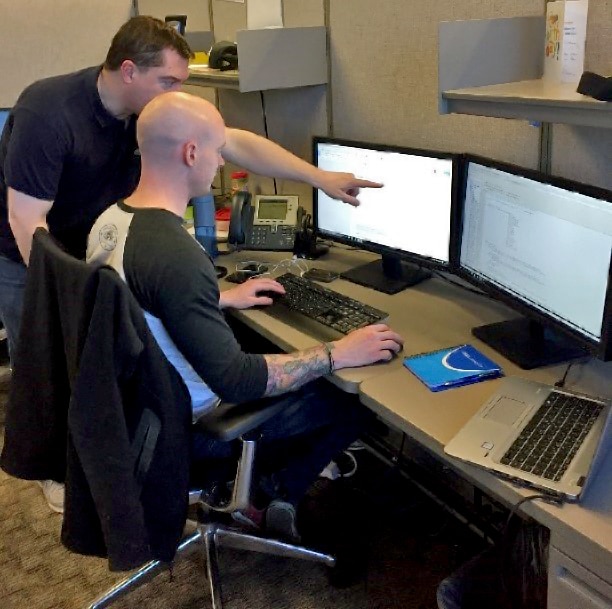 According to Nick Duckett, Downard's manager and BBVA Compass Application Team Lead, it's more than a claim.
"Before we hired Jake, our team had been reduced by one developer, placing strain on the team and finding the talent I needed was proving challenging," he said. "My Talent & Culture partner told me about I am Bham. After our interview, I knew Jake was the right fit. He has a lot to learn yet, but we know that he's determined to succeed."
Downard has had his boots on-the-ground – or in the office – for just over two months now, and Duckett says his rigorous training has served him well. "He's rapidly getting up to speed and showing his value," he said.
Chief Talent & Culture Executive Rosilyn Houston said that Innovate Birmingham and programs like it fill a gap that is growing larger every day in the Magic City.
"We live in a digital society, and the skill sets that are being developed by Innovate Birmingham are needed across industries," she said. "These are difficult roles to fill because there is a lack of skilled workers. Innovate Birmingham increases the number of developers, ensuring that the city remains attractive to both established and new companies as a place to build and grow their businesses."
For his part, Downard says that while the program was not easy – after all, it's the equivalent of a full time job for three months without the corresponding pay – but the end result was well worth it, considering he now has a "scheduled, routine life."
"I have health insurance, a salaried job, an apartment I can afford and I'm only 23," he said. "What else can a person ask for? This program 100 percent worked for me."
Led by the University of Alabama at Birmingham (UAB) and joined by a network of 15 partners from the education and tech sectors, the Innovate Birmingham Workforce program, and its three education pathways, looks to prepare 925 Birmingham youths to enter the technology workforce by 2021. Requirements for participation include being a resident of Jefferson County, age 17-29 and unemployed, underemployed or working a job with low wages and little chance for growth.
For more on the full scope of the program, visit http://workforce.innovatebham.com.