From part time teller to BBVA Compass small-medium enterprise commercial banking West Region officer, Dinuk Perera built his career on determination. In this edition of Employee Spotlight, Perera puts the phrase, "chase your dreams", into perspective and shares his inspirational story of creating opportunities to succeed.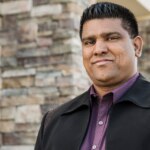 Describe your current role?
I work with five banking centers in the Inland Valley District of Southern California. I establish new banking relationships with small business clients and prospects with revenues ranging from $1 million to $10 million. I am in charge of opening accounts and handling business loans. My main clients have been doctors, CPAs, engineers, wholesale distribution companies, manufacturing companies, etc.
What brought you to banking?
I'm from Sri Lanka. I came to California in 1996 with nothing but two suitcases and a determination to work for a bank. Even though I had a banking degree from the Institute of Bankers of Sri Lanka and I had worked as a banker in Sri Lanka, I could not land a banking job in California. To make a living, I started working at a car wash for $4.75 an hour. Then I sold shoes for $5.25 an hour. I didn't own a car, so I walked to work or I caught the bus.
When I tried again to get a job at a bank in 1998, the branch manager said no because of my lack of U.S. banking experience. I then asked about an entry-level job. The branch manager told me I was overqualified to work as a teller, and they didn't want to hire me. But I was persistent. I asked them, "If no one will give me the opportunity to work at a bank in the U.S., how will I get the experience?" I changed the branch manager's mind, and I was hired as a part-time teller. I had to work a second job selling electronics to make ends meet for a while. I worked seven days a week for probably three years. When you have bills to pay, you don't limit yourself.
I was 27 when that first bank hired me. Within one year, the regional manager promoted me to assistant manager. And in the next year, the regional manager promoted me to branch manager. Once I got in and showed them my skills, they were impressed. That's why I tell younger people that you must be passionate about your profession. If you can't get the job you want, be willing to start at an entry-level position and go from there. I've been in banking for 23 years.
You've earned many honors at the bank, including eight consecutive months of being named Business Banking Officer of the Month for the West Region. What is your secret?
I'm passionate about what I'm doing. If you're passionate about what you're doing and happy for the employer you're working for, you can achieve great things. Planning is also important, which is why I try to give myself a goal every day. To achieve that goal, I apply discipline and consistency. When I go on business calls to meet prospects, I get to know them and collect their contact information. Then, I send them a follow-up email. In two weeks, I follow up again. In my line of business, you can't get the business with one visit. Yes, you can get lucky, but you have to be consistent and follow up. I really believe that the customer comes first.
If you're passionate about what you're doing and happy for the employer you're working for, you can achieve great things.
You joined BBVA Compass in 2012. What attracted you to the bank?
The friendly culture, the opportunity to grow your career, and how the bank promotes work-life balance. I also like how bank leadership takes time to listen to team members' opinions. I believe in BBVA Compass. I talk and walk the values of this company.
What keeps you going, even when someone says no?
Dedication. When somebody says you can't do it, that's something I take to heart to change. Imagine if I had given up when I was told I couldn't be a teller. I would not be where I am now. If you can put your heart, soul, and mind in it, you can accomplish anything.
---
Employee Spotlight is a bi-monthly series highlighting a diverse selection of employees from across BBVA Compass' footprint who are helping to push the bank forward. The series reinforces BBVA Compass for being a workplace of opportunity that enables its employees to contribute to its overall success.