Garanti Bank has been supporting music for over 20 years now, uniting fans with internationally renowned artists. In addition to the Istanbul Jazz Festival, which will feature over 250 artists this July, the Turkish bank has also supported more than 1,500 concerts including big names like Travis, Nick Cave, Sting, Bjork, Marcus Miller, Joss Stone, Nouvelle Vague, Stacey Kent, Tony Allen, Madeleine Peyroux and Roger Waters. In the next few months, it will bring fans two more stars through its concert series: Courtney Barnett and Balthazar.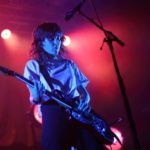 Courtney Barnett to perform in Istambul on May 18th
Sponsored by Garanti Bank, Courtney Barnett will take the stage on May 18th at Babylon, one of Istanbul's most popular live performance venues.
Originally from Melbourne, Australia, singer-songwriter Courtney Barnett rose quickly through the ranks of the Indie rock scene. After releasing her first EP album in 2013, "The Double EP: A Sea of Split Peas" brought Barnett international recognition and quickly earned her a huge following. Her debut album "Sometimes I Sit and Think, Sometimes I Just Sit" was listed as one of the best albums of 2015, leading Rolling Stone to call her "one of the sharpest, most original songwriters around". Winner of numerous awards in Australia, Courtney Barnett has also been nominated for Grammy and BRIT awards. She released her latest album last year, "Tell Me How You Feel". Known for her high-energy stage performances, the musician will be one of the star guests at festivals like Primavera Sound and Lollapalooza Berlin this year.
Balthazar takes the stage at Zorlu PSM on September 27th
Garanti's concert series is bringing fans another surprise: Balthazar. The Belgian group has been performing for its fans around the world for more than 10 years now.
Balthazar will perform on the main stage of Zorlu PSM on September 27th. Following the release of their debut album "Applause", they have performed at festivals across Europe, such as Pukkelpop and Rock Werchter. Released in 2015, their third album, "Thin Walls", was produced by Ben Hillier - known for also working with Depeche Mode and Blur. The group released their latest album "Fever" earlier this year and has earned worldwide acclaim for songs like "Bunker", "Do Not Claim Them Anymore" and "I'll Stay Here".
Opportunities for Garanti Bank customers and music lovers
Garanti Bank credit card holders can get a 20% discount on concert tickets, and those following the Garanti Jazz Green social media accounts will have several opportunities to win tickets or backstage passes. Furthermore, the best moments from these concerts will be shared live on social media with all music lovers.
Garanti Bank has lots of surprises in store for the users of its app, KonserV, including chances to win free concert tickets or signed albums. KonserV users not only earn points for the concert tickets they purchase, they can also take advantage of special perks like free coatroom services and meet and greet privileges.
Garanti Bank offers customers and music lovers everything from discounted tickets to unique experiences watching, or even meeting, their favorite artists. It will continue to support culture and the arts through its sponsorship of the Istanbul Jazz Festival this July and the series taking place throughout the year.