Loans
Updated: 19 Nov 2018
Garanti Bank launches two innovative new products: 'Motorcycle Loans' and 'OSS Insurance'
Garanti Bank customers now have two more products at their disposal, 'Motorcycle Loans' and 'OSS Insurance' (one stop shop). These new solutions give customers quick and easy access to credit and insurance options at the point of sale, with minimal paperwork. The bank's goal is to make life easier for its customers through innovative products and services.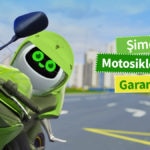 Garanti customers interested in purchasing a motorcycle now have access to effortless financing, thanks to the bank's new 'Motorcycle Loans'. Customers purchasing any motorcycle with an engine of at least 250cc can immediately apply for the loan at Turkey's first vehicle loan phone line (444 OTOM), online at garanti.com.tr, at participating dealers or at Garanti branches. No special paperwork or separate car insurance (known as 'casco' in Turkey) is required.
And Garanti's OSS Insurance allows customers to perform all their insurance transactions quickly and easily while taking out a vehicle loan through the OSS system. Customers using a Garanti vehicle loan to purchase a vehicle at participating dealers benefit from discounted interest rates. And they can add life insurance, loan protection (unemployment) insurance, motor vehicle insurance and the mandatory traffic insurance - all without leaving the dealer. This new service allows Garanti bank customers to meet all their insurance needs in a single location, without having to complete additional paperwork.
Garanti Bank Executive Vice President, Selahattin Güldü, emphasized the convenience of these new products: "At Garanti Bank we continue to make a difference with innovative products and services that add value to our customers' lives. Our customers can now get an instant loan for the motorcycle they want to buy without having to go to a branch. And thanks to our 'OSS Insurance', all insurance transactions are now fast and easy, linked to vehicle loans. Our customer-centric perspective means we will continue to design innovative products and services to meet our customers' needs."