BBVA's Turkish unit successfully refinanced a syndicated loan on Friday, with demand exceeding the initial transaction amount.  The new facility is comprised of $229.5 million and €518.8 million with a 367-day maturity.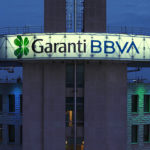 Thirty-one banks from 16 countries participated in the loan renewal — including eight new participant banks. Garanti BBVA's syndicated loan generated significant demand, receiving close to 120 percent of the transaction amount.
The loan, in the amount of $229.5 million and €518.8 million has a 367-day maturity and consists of two tranches with an all-in cost of Libor +2.25 percent and Euribor +2.10 percent, respectively. ing standing at Libor +2.50% p.a. for U.S. dollars and Euribor +2.40% p.a. for Euros.
Commenting on the syndicated loan renewal, Garanti BBVA's CEO Recep Baştuğ said, "The fact that our syndicated loan has reached a renewal rate of over 100 percent  — with both participation from new banks and increased participation from existing banks — demonstrates the strength of our correspondent network, as well as Garanti BBVA's ability to successfully create business for our correspondent banks."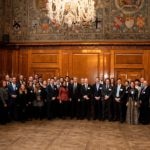 Garanti BBVA's CEO Recep Baştuğ and part of the bank's team.
Recep Baştuğ indicated that the bank is more than pleased that the syndicated loan has not only been renewed, but that it has received such high demand, far exceeding initial expectations. "Once again, Garanti BBVA not only demonstrates its ability to generate sustainable funding in the international financing market, but we clinch our position as a leading contributor to foreign trade financing, thus providing essential support to local companies operating internationally," he concluded.