I fell in love with Paris a long time ago. It was the spring of 2013 when I went to Roland Garros for the first time. Having grown up playing on clay courts in my hometown of Caracas and then later in Barcelona, this love was only natural. It's true that I play more aggressively than a typical clay court player due to the way I'm built, but there's no denying that clay courts make me feel at home.
We're on our way to Paris. This time we're going by train, on the TGV – France's high speed train. And as I look out the window at the passing landscape, I think back to Roland Garros last year.
I remember going back to the Hotel Mercure Paris Boulogne, about 10 minutes away from the tournament. Last year it was recently renovated and I like it because it's so close to the stadiums. It's really practical for rainy days. You can go back to you room and escape the hustle and bustle of the players' room while you wait for the rain to stop, and then get back in time for the game. It will be our home once again this year.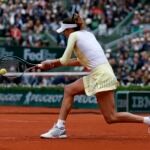 Garbiñe Muguruza in Roland Garros 2016 final - EFE
I remember how gray and overcast it was during the whole tournament. It stayed that way for two weeks. In my first match against Schmiedlova, I remember how it drizzled, but wasn't enough to stop the match. I remember how my team struggled to find covered clay courts to continue practicing on the days we didn't have a match. One day I even played on a hard court for a while, but then we got used to driving half an hour to get to the covered courts. I was lucky because the rain didn't delay any of my games.
I remember the dinners at the Japanese restaurant next to the hotel and the Italian restaurant a few streets away. I remember that lob. And I remember waking up that Saturday night in the hotel to make sure the trophy was still there.
But all that is in the past. Now we are all starting from scratch and will have to fight hard to win each match. Let's go for it!
Garbiñe