So many things have happened that it seemed like an eternity when we got back on the road for the great summer that was approaching. Unfortunately, my health started playing dirty tricks on me again and I couldn't compete in Montreal. Actually, I was eager to play because the previous week we had trained very hard, both physically and on the court, in Los Angeles and I was ready. But I couldn't, I just couldn't.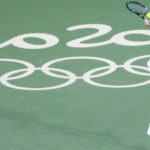 We set off for Miami to spend a few days. Two I spent in bed without being able to train, but I gradually recovered my strength. The flights from the U.S. to Rio were packed and the only seats we found were from Miami on Tuesday, August 2 at night, via Buenos Aires. It was crazy! The truth is that the experience of living the Games for the first time has been fantastic. It was very different for us because we went from one hotel to another with our team, but I had the chance to share an apartment with some of my team-mates. Carla and I shared a room in a 3-room apartment. Conchita, Víctor, Arantxa and Anabel were in the other rooms. The only snag was the intensity of the tennis competition, with loads of matches in a few days, with no time for anything else.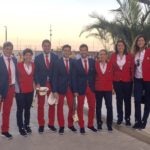 Team Spain during the Rio 2016 Opening Ceremony - @GarbiMuguruza
It was an honor to be a member of the Spanish Team and I hope I'll have a chance to compete in the Olympic Games again. Actually, Spanish sports did very well and winning 17 medals has been a great achievement. I would like to congratulate all of them, but especially MY FEMALE MATES. Women's sport is booming in Spain and I hope this great result will encourage many girls and women, young and not so young, to believe in themselves and know that many of the keys for being successful can be found in hard work and self-confidence, not only in professional sport, but in life.
And I have to keep traveling… The problem is that the professional tennis circuit never stops and after Rio we headed for Cincinnati to play one of the most important tournaments before the US Open.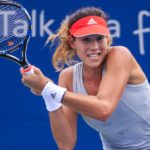 Garbiñe Muguruza in Cincinnati - EFE
The truth is I'm glad I've reached semifinals. Previously I hadn't done much, but I'm happy with what I've achieved. It was also a very tight schedule with matches every day, with delays because of the rain, but what matters is that I felt well, I displayed a fighting spirit and I made progress.
I'm writing from New York, where we arrived on Sunday afternoon. I like having this week to recover and get ready for the US Open. I haven't been too successful in this tournament, which I think suits me, so I'm dealing with it very eagerly and with a positive mindset. I have a week with time to work and deal with commitments off the court. As happens in each Grand Slam, this brings together the entire world of tennis. Players, tournament managers, agents, sports brands, the press… We're already starting to plan next year's calendar… I have a photo session with the sportswear I'll be wearing in 2017…
But it's time to work and focus. There are no easy tournaments, no easy matches… and even less in a Grand Slam, so I hope I keep doing well and enjoy playing good tennis.
Big hug and best wishes for this last summer sprint.
Garbiñe