I have now had three very good weeks on the tour that will finish next week at the US Open. I decided to play in Stanford despite its coming so soon after Wimbledon and I did not regret it. Things went very well and my victory in Cincinnati is the result of all the work I have done this season, which is bearing fruit.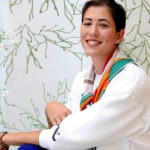 The truth is that we tennis players are very fortunate people. We have to sacrifice a great deal, and put in many hours of work no one sees, but, in the end, we do what we love and have the great luck to travel around the world getting to know other people and other cultures. I know it may sound trite but it is true and I have always thought that travel opens one's mind and that it is therefore a privilege.
Getting to know other cultures and other people helps me appreciate how fortunate I am to have been born in a family that took care of me, loved me, and gave me an education, values, and tools that have allowed me to grow up strong and independent. These are things we often take for granted in Europe, where equality, education, democracy, and liberty are guaranteed – but we should keep working for them every day.
Travelling gives you the opportunity to see other realities, places where children do not have the opportunities I did, where they barely have access to education, where they are forced to marry very young, and where their opportunities are limited. You see things that leave lasting impressions.
For these reasons, I took notice when told about John Wood and his "Room to Read" project. John was a highly-placed Microsoft executive in Asia who one day took a break and went to the mountains of Nepal. There he found villages where they had great respect for their libraries, which had no more than four or five books. He was moved by this and proposed bringing books to these villages. In time, his project grew into what is now known as "Room to Read", the NGO that coordinates the entire programme with which I am now working.
I had the opportunity to meet John during the tournament in Stanford, and he got me so excited about his project that I now want to help make his organisation better known. We also plan to undertake some project in Latin America.
It is so important that children are given positive messages, that they are told that they can overcome obstacles and better their lives. I do not mean that they should become professional tennis players, but rather that they can live up to their potential and test their limits. I would like to help them do this.
Garbiñe.