Unfortunately, a virus kept me from playing how I would have liked at the WTA Premier tournament in Beijing this week. It's one of the top tournaments in the women's circuit and where the most points are given out, after the four Grand Slam tournaments. I was feeling sick for several days after leaving Wuhan. I wasn't able to practice and even though I tried, the fever kept me from playing as well as I would have liked.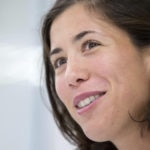 A have very fond memories of the Beijing tournament. I won there in 2015 and there are a lot of members of Team Mugu in China. It's incredible how affectionate and friendly the fans are there. They always make me feel very supported. They come to watch my practices, from beginning to end, and never stop cheering for me during the games. But this time I was sorry to not be able to bring them much joy.
There are some things you just can't control, like catching a virus and getting sick, so there isn't much more to say about the situation. I'm now at home, getting better and regaining my strength. I hope I'll be able to practice again soon because the last tournament of the year – and definitely the most important one on the women's circuit - is right around the corner: the WTA Finals in Singapore.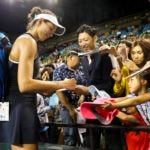 Garbiñe Muguruza meets some fans in Tokyo - EFE
The truth is that making it to Singapore is one of the top goals I set for myself every year. Qualifying so early on was definitely a positive because it gave me peace of mind. This year things are a little different. I will arrive more relaxed, with the satisfaction of having had a good year and the possibility of being able to hold onto my number 1 ranking. That would be a major accomplishment. I won't deny that I would be very excited, but things are very even and there are several players who could end the year as number 1.
I know that I need to continue concentrating on myself. On continue to work hard as I have so far, and doing everything possible to get to each match in the best possible condition. The tournament has a very demanding format and a lot of points are up for grabs. There are eight players and they divide us into two groups of four where we all play against each other. Three matches, four players and two spots in the semi-finals. It's important to stay positive. I will arrive with a strong desire to do well and I will fight for it!
Garbiñe