BBVA has been named the world´s best bank for corporate clients for the second time by Global Finance magazine in its annual awards. Awards that have become a trusted standard of excellence for the financial industry.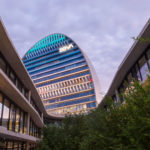 The winners of the World's Best Bank Awards 2021 were selected based on their performance over the past year and other criteria including reputation, excellence in management, and for having qualities that companies should look for when choosing a financial provider. It is a recognition deemed more valuable and important than ever given the current context. In this edition, special attention was paid to how banks responded to the COVID-19 pandemic and the success of their efforts in supporting customers.
This award recognizes BBVA's service for companies of all sizes. For large companies, the outbreak of the pandemic led investment banks to be key players in their survival. In this sense, over the last year BBVA has been one of the most active banks in financing, as well as a facilitator for various government aid programs for all sized companies. In the case of SMEs and the self-employed in Spain, it recently launched a simulator to analyze whether they can qualify for aid for sectors most affected by the COVID-19 pandemic.
BBVA is now focusing its efforts on capitalizing Next Gen funds to support various countries in real economy recovery, while closely following the management of funds within Europe and participating in meetings with the AEB and other organizations to define the role of banking. As it has demonstrated throughout the pandemic, the BBVA Group´s mission is to be part of the solution and that's why the bank is focusing on achieving a multiplier effect with these funds.
"With the pandemic easing in some parts of the world while still raging in others, international commerce and the global financial system remain in an uncertain state," said Joseph D. Giarraputo, publisher and editorial director of Global Finance. "For 28 years, Global Finance's Best Global Bank Awards have helped corporate treasurers and CFOs identify the banking partners best suited to help them succeed and thrive, which is extremely important as the pandemic recovery takes hold in large parts of the world," he added.
Global Finance recognized BBVA in 2019 with this same award. The American magazine also selected the institution as the world´s best investment bank for sustainable financing, in the latest edition of its 'Best Investment Bank Awards 2021."
A trusted standard in the financial press
Since 1987, Global Finance magazine, specializing in financial markets and investment banking, has been helping corporate leaders, bankers and investors chart the course of global finance and business. Its annual awards recognize excellence and have become a standard of quality and trust.
Each year, the magazine, which has a circulation of 50,050 copies and readers in 163 countries, selects the best financial institutions around the world based on a qualitative analysis of experts and the measurement of parameters such as market share, number and volume of operations, innovation, etc.
Award winners are chosen by Global Finance editors, industry analysts, business executives and technology experts, who assess the nominations submitted by the banks themselves along with independent research, to assess a number of parameters.
Global Finance uses its own algorithm with criteria weighted by their relative importance, such as knowledge of local conditions, the needs of corporate clients, financial strength and security, market position, compliance, and excellence in customer service.