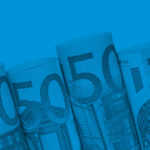 Yesterday, the ECB made the plan debated for months a reality. EU finance ministers also discussed the plan back in February at the Ecofin meeting.
For the ECB, this decision is part of its policy to combat money laundering and funding for illicit activities. The bill will not disappear immediately – it will be delayed to the end of 2018, coinciding with the introduction of new 100 and 200 euro bills with better security measures. 500 euro bills will continue to be legal tender and can be used for payments and savings.
In practical terms, it does not seem like the disappearance of 500 euro bills will have a major impact on the daily lives of European citizens since the majority of the population makes little use of these bills, even if they amass a large total value. The ECB estimates that 500 euro bills in circulation comprise approximately 30% of the total value of euro bills on the market, with a value of €300 billion euros.
Is this a new sign pointing to the end of cash?
Authorities are starting to resist the use of cash, giving preference to other options such as credit card or digital payments, which are more efficient, safer from theft and more difficult to use in the informal economy.
The decision to stop printing 500 euro bills is also one more example of the decline of cash versus other forms of payment.  Worldpay's recent report is a case in point, estimating that the digital payment market will reach full maturity in 2016. It calculates that by 2019 digital wallets will surpass even credit cards and will be far greater than cash payments.
BBVA has been ahead of this transformation in the payment sector for a while now. This is the philosophy behind the bank's mobile payment system, BBVA Wallet, which was developed in 2013 and is currently operational in Spain, Chile, Mexico, the U.S. and Turkey. BBVA Wallet is one of the first of its kind: users can "turn it off" and "turn it on", apply for new cards and determine what operations can be performed with each card.
Denmark on the horizon
On January 1, 2016, new legislation entered into force in Denmark that allows stores and businesses to refuse to accept payments in cash. This comes as part of the Danish Parliament's plan to "eradicate cash". With this measure, Denmark became the first country to set a deadline to stop using cash: 2030. Other Nordic countries seem to be following in their footsteps. In Sweden, 95% of retail purchases are cash-less.