Houston Rockets and BBVA Compass create opportunities for entrepreneurship with new small business contest
As the playoffs quickly approach, BBVA Compass and the Houston Rockets are creating clutch opportunities for a local small business to rise up against the competition, officially starting the BBVA Compass Small Business Opportunity contest today, April 2.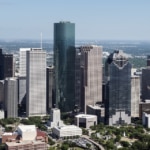 The contest awards the winning business $10,000, lunch with Rockets executives and consultation sessions with BBVA Compass and Rockets representatives. Other prizes include tickets to a future Rockets game next season and social media promotions on bank and team channels.
They're still finding ways to help their community.
"The Houston Rockets are winners on and off the court," said BBVA Compass Houston CEO Mark Montgomery. "Even as they enter the most important time of the season, they're still finding ways to help their community. As an organization that strives to do the same and create ample opportunities, BBVA Compass is proud to team with up with them for this."
The BBVA Compass Small Business Opportunity contest gives small business owners a chance to submit their entry by April 11, detailing the nature of their operation, how they give back to the community, and what they would do with the winnings in order to grow their business. After the submission period ends, all entries are reviewed by a panel of judges comprised of BBVA Compass and Rockets executives.
After judges whittle the field of contestants down to four finalists, those businesses will create a video that embodies its operations and why it should win the contest. Creativity is encouraged in these videos, as they are uploaded to the Rockets website, where fans vote for their favorite submission by May 11.
"The Rockets are honored to host this contest along with BBVA Compass," said Rockets Chief Revenue Officer Gretchen Sheirr.  "It's a unique chance for our fans to learn more about local small businesses and the positive impact they have in our community."
Potential contestants can learn more about the contest and where to submit entries at www.nba.com/rockets/smallbusiness.