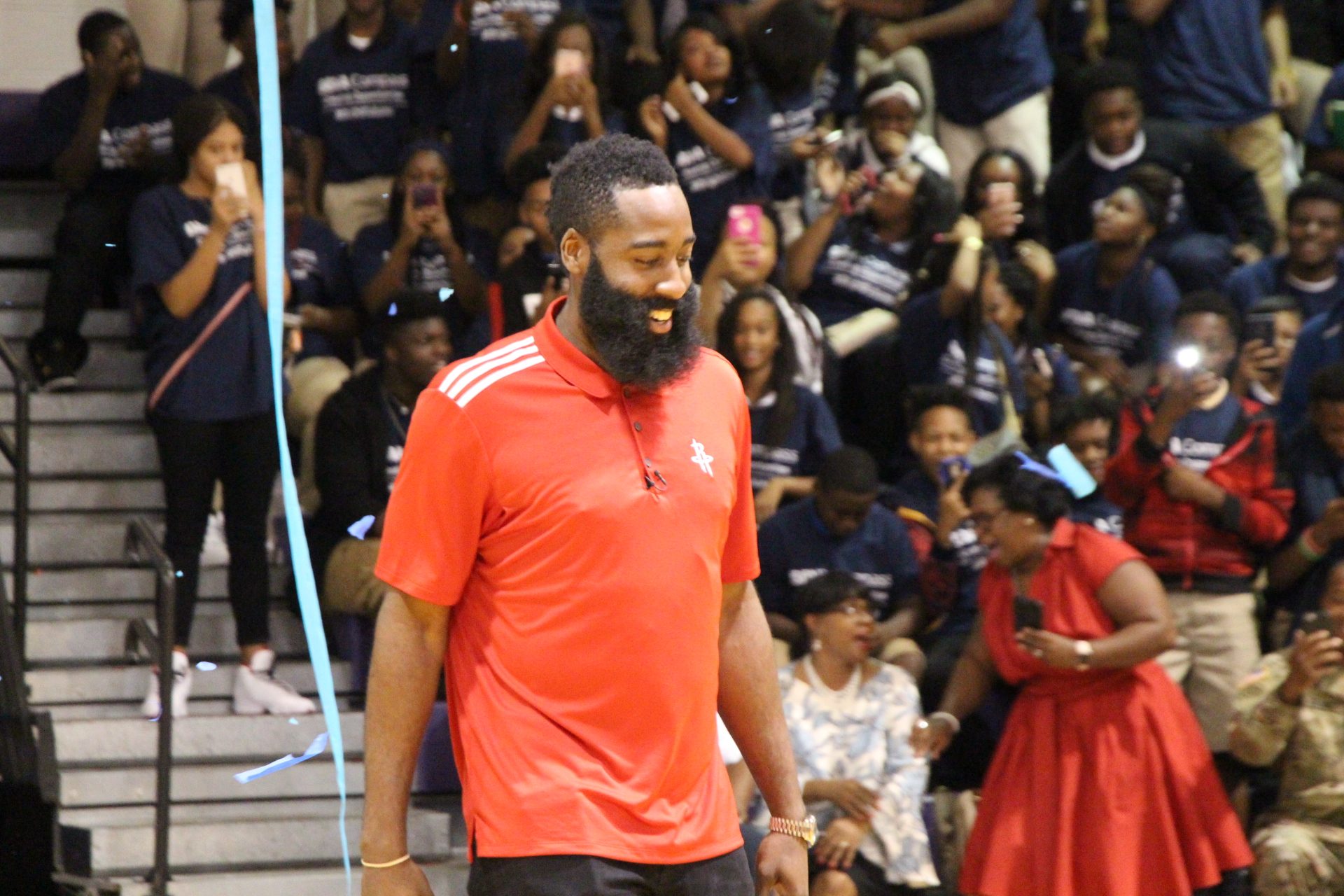 BBVA Compass to bring pro basketball preseason game to Birmingham, Ala.
BBVA Compass brand ambassador James Harden of the Houston Rockets landed in Birmingham Thursday to help make a surprise announcement at Parker High School: the bank will bring a preseason game to Birmingham, between the Rockets and an as-yet-unnamed team in 2018, for the first time in more than a decade.
BBVA Compass Birmingham Market CEO Andrea Smith, Mayor William Bell and Houston Rockets CEO Tad Brown joined Harden for the announcement during a pep rally at the school in front of nearly 800 students. Birmingham will host the preseason game in the fall of 2018.
Harden: I'm just proud to be a part of what is sure to be a great game in a great city.
"Birmingham certainly knows how to welcome someone!" Harden said. "I'm just proud to be a part of what is sure to be a great game in a great city."
During the ceremony, it also was announced that BBVA Compass would take part in refurbishing an outdoor basketball court in the city.
"We are grateful to have BBVA Compass and the Houston Rockets come together with the City of Birmingham to host a pro basketball preseason game," said Mayor William Bell. "Birmingham has made a name for itself as a world-class destination for sports and entertainment. This promises to be another exciting partnership and event for the City and our citizens."
The announcements come as the bank closes out its Summer of Opportunity initiative in Birmingham, which was designed to help the bank pay it forward through random acts of kindness. The initiative supports BBVA Compass' larger mission to create opportunities for brighter futures in the communities it calls home. In service of that mission, the BBVA Compass volunteer corps taught financial literacy courses to Parker juniors and seniors before the pep rally. Commitment to financial literacy for all ages is a core component of BBVA Compass' community efforts.
"We could not have ended our amazing Summer of Opportunity in a better way," said Smith, BBVA Compass' Birmingham Market CEO. "This announcement , and the festivities around it, represent our deep belief in Birmingham's bright future, and our determination to use the resources at our disposal to help the city continue to realize its potential."
Smith: We could not have ended our amazing Summer of Opportunity in a better way.
The preseason game, which is slated for October 2018, will pit the Houston Rockets against a yet-to-be-named opponent. The game, which will be played in one of Birmingham's arenas, is made possible due to BBVA Compass' relationship with the Houston Rockets.
"This is a tremendous opportunity through our partnership with BBVA Compass to bring the city of Birmingham a taste of Houston Rockets and basketball," said Brown. "On behalf of the Rockets organization, I'd like to thank Mayor Bell for welcoming us to Birmingham and we look forward to putting on a great show next year."
BBVA Compass' Summer of Opportunity initiative kicked off in June with employees across the bank's footprint handing out $25 gift cards to the people and organizations of their choice. The bank also summoned its brand ambassadors, including Harden, to help promote the summer-long campaign to spread bright cheer and pay it back to the communities it calls home.