Alfonso Gómez (BBVA Switzerland): "Banks bring strength and security to crypto asset services."
In 2022, more than $3.8 billion worth of cryptocurrencies were stolen. Traditional banks are therefore regaining ground to become service providers as custodians of crypto assets. This was the position advocated during the event hosted by El Confidencial by Alfonso Gómez, CEO of BBVA Switzerland. For more than two years now, BBVA Switzerland has enabled its customers to manage bitcoin, ether, and the rest of their investments from the online banking app.
Image: Alfonso Gómez, CEO of BBVA Switzerland, with Javier Molina, from El Confidencial, during a moment of his talk. /El Confidencial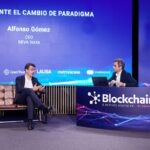 At the sixth Blockchain and Digital Assets event, Gómez explained that with clearer legislation, as is happening thanks to MiCA, and with events that show the weaknesses of the market, such as the FTX scandal, banks now see new opportunities to position themselves in the crypto asset market, precisely because of the core features of the banking business, such as being able to build trust and ensure security.
"The banking sector has a lot to say," said Gómez, for whom digital assets are the evolution of traditional assets, with which there is a powerful synergy. "Banks provide three main things: a quality service with a great user experience, reliability you can trust, and security," said the CEO of BBVA Switzerland, who pointed to the multi-million dollar damage being caused by cyber-attacks on new platforms that do not have the resources or infrastructure of traditional banking.
"Security is a must for banks. It's one of our main roles, as is ensuring our customers' access to their assets," Gómez emphasized.
As for the future development of BBVA Switzerland's business, Gómez ruled out introducing new cryptocurrencies in its wallet for the time being. "Bitcoin and Ethereum are the key protocols. We are clear about our approach and, although we are in a learning phase, we are not going to introduce any other protocol without fully understanding how it works," Gómez said.
BBVA Switzerland continues to reinforce its commitment to crypto services. The bank is expanding its blockchain team, improving its infrastructures and continuing efforts to spread awareness of new decentralized technologies with its Blockchain to go educational modules.