"At BBVA, we're playing to become a very powerful services provider"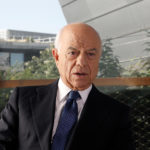 "At BBVA, we're playing to become a very powerful service provider," says Francisco González. But, what type of services? BBVA an advisor, with a substantial stream of revenues coming from the services it delivers to its customers, "not so much from being purely a bank."
Francisco González says that he's leaving BBVA after assembling team capable of taking on "the digital transformation of a conventional bank into a global digital company." For him, what's important is "the project," not how the company is affected by specific situations, such as the volatility in emerging markets.
"The bank's project focuses on transformation," he notes. And he brings up some of the relevant transformation figures: digital channels account for 40 percent of the Group's sales, 50 percent of customers have already gone digital, over 130,000 employees working already following the agile methodology… "These are things that still don't show on our share price," he explains. But "what's coming," "is going to be better for the bank," he says.
"The bank's project focuses on transformation. But what's coming, is going to be better for the bank"
This is why he feels that BBVA is very well prepared for the future. A future were regulation will play a very relevant role. In this environment, a "new league of competitors" will be created, consisting of some brick and mortar banks, startups and large internet companies. And BBVA will be a key player, in his opinion.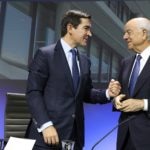 Carlos Torres Vila and Francisco González. - BBVA
It's all about principles
BBVA's still-current Group Executive Chairman is "satisfied" about leaving behind a bank with a clearly defined managerial philosophy. Although "it hasn't been easy," Francisco González has always managed the Group following "very simple principles," with a strategy rooted on three pillars: "first, principles; second, people, meritocracy, i.e., having good teams. And third, innovation.".
In this sense, he is convinced that Carlos Torres Vila will maintain the same line of management and remain as independent when managing BBVA as he has. "It's not only Carlos, or only Francisco González, it's also the Board of Directors, the managerial team and our company's corporate culture."
As for Carlos Torres' replacement as CEO, Francisco González stance is clear: "When you leave, you leave and you make room for those who're coming. I haven't asked Carlos Torres about who's going to be his CEO or the people that are going to be in his team." In fact, he says "I've told him, 'feel free, and, with help from the board - which has the final word -, assemble your team. One day he'll tell me who his nominee is, and, for sure, his decision will be fine with me."