BBVA Compass helps small business owners stay on top of potential tax issues
BBVA Compass teamed up with Experian to give small business owners access to expert advice and insight at a recent national webinar. The online workshop was intended to help small business owners and entrepreneurs navigate the impact of the 2018 tax law change which may permit taxpayers other than corporations to deduct of up to 20 percent of their qualified business income from a qualified trade or business under the Tax Cuts and Jobs Act.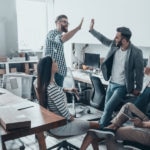 "We always want to offer small business owners the most up-to-date information and education on topics that are the most relevant to them," said Elizabeth Dobers, Executive Director of the Business Banking Segment. "Most recently, we felt that all of the recent tax changes for small business owners had created a sense of confusion. We want to give them the information they need to not only navigate but even take advantage of the most important changes.  We felt that partnering with Experian would extend our outreach, and it certainly did."
More than 450 attendees participated in the online workshop, which is the best response the bank has seen for its ongoing webinar series. This most recent event in the bank's ongoing educational webinar series, entitled "The New Qualified Business Deduction", featured Barbara Weltman, who is a prolific author and trusted advocate for small businesses and entrepreneurs. She has been named one of the 100 Small Business Influencers in the U.S. five years running, and publishes her Idea of the Day and Big Ideas for Small Businesses online.
Dobers: We hope we are also providing value-added education that will help those small businesses continue to thrive and grow, too.
"Webinars like this one are an important part of the bank's outreach to small business owners and entrepreneurs in the communities we serve," Dobers said. "It helps us fulfill our promise to provide more than just products and services. We hope we are also providing value-added education that will help those small businesses continue to thrive and grow, too."
Dobers called the webinar series a valuable addition to the bank's services, noting that informational webinars like this one have become popular because participants can join from their home or office, without taking time away from their businesses. "Our hope is this helps them understand the changes, take advantage of any changes that may help save money, and provide them a convenient way to get the information."
"We are currently working in conjunction with our marketing team to extend this series into 2019," Dobers said. "We plan to offer quarterly webinars focused on taxes and other issues of interest and importance to small business owners."
---
For more information on BBVA Compass small business offerings, click here.